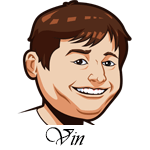 We could see a big shakeup in the Wild Card standings this weekend if the Pirates are able to stay hot and the Mets struggle against the Nationals. The Pirates currently sit 2.5 games back of New York, but that can change quick when one team loses and another never does. We also have Toronto right on the backs of the Baltimore Orioles and they'll look to make their move this weekend with a big series against Detroit. The Mariners and Royals series this weekend is also very interesting as the loser of the series could find themselves five games out of the Wild Card with four teams in front of them. This series could actually decide the season of one of these two teams. There are a lot of interesting storylines heading into the All-Star Break and it should be a great weekend for baseball.
Notable Upcoming Bets:
MLB Betting Tips:
The Pirates pulled off a big win in St. Louis last night to win their seventh straight and they go for eight tonight against the Cards. The Cardinals will send Adam Wainwright to the mound who has started to look more like the ace we remember him to be as of late. He'll go against Pirates' rookie Tyler Glasnow who is making his first start in the majors. Glasnow is one of the top pitching prospects in all of baseball and he should fare well in his first major league start with a red hot offense behind him. He has strikeout stuff that could baffle these Cardinal hitters. I feel like this may be the underrated pitching match-up of the day and it has a very good chance to go under 8.5 runs. Note: This game has a 1:45 Eastern time start.
The Mets and Nationals kick off a big series tonight in their ongoing battle for supremacy in the NL East. Tonight's pitching match-up is an interesting one as the Nationals' top pitching prospect Lucas Giolito faces off against 42-year old Bartolo Colon. It's a classic battle of youth vs. experience. We are a little over a week removed from the Nationals completing a three game sweep against the Mets and it's hard to see this one going much different. The Mets offense is a mess right now and Giolito is just waiting to break out. The Nationals +106 is our play here.
Last season Drew Hutchinson was one of the more disastrous pitchers in baseball. He has looked good in Triple-A this season, but I don't love his chances against a dangerous Tigers offense. Throw in the fact that Justin Verlander is going for the Tigers and I like the Detroit nine tonight. Tigers +114.
Drew Pomeranz on the other hand has been fantastic this season. His 2.65 ERA and 1.105 WHIP has been one of the few bright spots for the Padres this season. He heads to LA, a pitcher friendly park, to face the Dodgers and Hyun-Jin Ryu who is returning from injury and making his first start since 2014. That is a long layover and with one of the best pitchers in the league thus far on the other side, I'm all over the Padres +133.