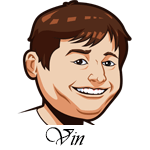 Follow @SBTSportBetting
With the All-Star Game today, we look ahead to the MLB Trade Deadline which takes place on July 31st. This is the last chance to make trades without players clearing waivers before being traded and thus the time when trading is made the easiest. There are a lot of contenders out there who need pieces to add and it should make for an interesting trade market.
Some teams that I can see making trades are:
Twins: This team has the best hitting in the league right now and just needs some pitching. They have been linked to the Blue Jays and Marcus Stroman which would be a huge add for them.
Red Sox: Another team that needs a starter. They have been reluctant to spend money this year, but a fourth or fifth starter type would help a lot. Thinking someone like Andrew Cashner here.
Indians: This team needs hitting. They are one of the best pitching teams in the league, but the offense has been terrible. One interesting idea I've seen floated is moving Trevor Bauer for some help on the hitting side. Not quite a white flag trade, but it would be a tough sell to fans unless they got back an immediate impact hitter under team control. Hard to see anyone giving that up.
The NL Central: Just 4.5 games separate first and last place in this division. The Cubs probably already made their move with the signing of Craig Kimbrel while the Brewers seem to be going with internal upgrades, calling up Marcio Dubon and Keston Hiura. The Cardinals are the most likely to add here while I'd put the Pirates as the most likely to move players.
Nationals: I think this team should make a move to add people. With the Phillies losing two key players in Andrew McCutcheon and Obduel Herrera for the season and the NL Central in a bloodbath, the Nationals are in a great spot to grab the Wild Card.
Dodgers/Yankees: Do they need to add? No. Will they? Probably.
Notable Upcoming Bets:
MLB All-Star Game Betting Tips:
I never take this game too seriously, but it's hard to ignore the American League's dominance in this game over the years. The AL is 13-3 going back to the infamous tie game and they have won six straight games here. The American League always has higher payrolls and has been the World Series winner over the past few seasons. It's just a better league and I think they continue their run here.
WNBA Betting Tips:
Los Angeles Sparks at Dallas Wings: This is a pretty big mismatch. The Wings have lost four of their past six games while the Sparks are in the midst of a three-game winning streak. The only real worry here is that this is an early game which can be kind of sloppy. We also have the Sparks on just one-day rest. That said, sloppiness goes for both teams and I don't think it matters all that much.
Follow @SBTSportBetting