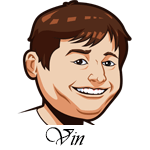 Follow @SBTSportBetting


[Get Exclusive Tips on our Patreon, Ad-Free
]
Last night, the Bruins stormed back into the series with the Blues with a commanding 5-1 win to force game seven. It's the NHL Playoffs, of course, this thing is going seven games. That was the second big blowout loss in St. Louis in this series so you really have to feel for those Blues fans. Of course, that could all be wiped away with a road win to win the Cup. This team has been resilient all season and I have a hard time seeing game seven being that kind of result. Game seven takes place on Wednesday in Boston.
Another team needing a win is the Golden State Warriors. They are coming off back-to-back home losses to the Raptors and are now in danger of having their season end tonight. This series is seeing a lot of comparisons to when the Pistons upset the Lakers in that one Finals and it's hard not to see them here as well. That said, this is a much different story as one team has struggled with injuries while the other just hated each other. Still, the Warriors dynasty could very well end tonight at the hands of Kawhi Leonard and the Raptors. Tonight should be very interesting.
Notable Upcoming Bets:
NBA Betting Tips:
Golden State Warriors at Toronto Raptors: This could be it for the Golden State Warriors. As of right now, Kevin Durant is listed as questionable and it's looking like he'll be a game-time decision. A healthy Kevin Durant could definitely get the Warriors right back in this thing as he creates as many problems as Kawhi Leonard, but that is a big ask. This guy hasn't played in a month and for him to step back in and save this series is a big ask, even for one of the best players in the universe.
That said, I feel like it's really unlikely that the Warriors go out like this. They've had their share of injury woes in this series, but this is still the Warriors and the best team we've seen in a long time. I have a really hard time seeing them dropping the series 4-1. They've been one of the best playoff road teams of all time during this run and I think they really show up here and send this thing back to Oakland. Durant or no Durant.
MLB Betting Tips:
Chicago Cubs at Colorado Rockies: The Cubs send Yu Darvish to the mound for this one and he's had a real issue with the homerun since returning this season. That is not a problem that you want to have when you are playing at Coors Field. This is the most dangerous hitters park in the game and I can see the Rockies giving Darvish a hard time here. The Rockies send German Marquez who is at least accustomed to this park and knows what he's in for. The Cubs offense is solid, but I think that he can do enough to keep them quiet while the offense bangs on Darvish.
Follow @SBTSportBetting