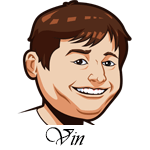 Follow @SBTSportBetting
I've been working on a way to sort of streamline my system so that I can make picks easier while not letting narratives get in the way. The things that are important to me when picking games are:
Batter splits vs. pitcher handedness
Pitcher splits vs. batter handedness
Pitcher quality
So, the perfect game for me is something like this:
Team A: Quality LH starter against a team that is below average against lefties.
Team B: Average to below-average RH starter against a team that is above average against righties.
That's the dream. I'll adjust for weather, injuries or slumps as needed, but that's what I'm looking for every time out. We are getting to the point in the season where the stats are more reliable and we can fully jump forward with this plan.
Tonight we have two games that meet my criteria with another three that just missed the cut. The two that missed the cut were the Cardinals over the Padres (moneyline too high, runline not a big enough advantage), Indians over White Sox (moneyline too high, runline not a big enough advantage) and Jays over Rays (numbers are skewed by Sam Gaviglio's great start and I just don't trust it). The Cubs over the Brewers is also an interesting one at a nice place as the Brewers stink against lefties. I'll be keeping an eye on those, but the games I like best are the ones below. Let's see how it goes.
[text-blocks id="137″ slug="email"]
San Francisco Giants vs. Miami Marlins Betting Tips:
This is my highest rated game of the day and a great place to lay the runs. Madison Bumgarner looked like himself in his first game back and tonight faces a Marlins offense that has just a .667 OPS/85 wRC+ on the year. The Giants offense is starting to heat up and has hit lefties well all year. Wei-Yen Chen is one of the best pitchers to target in baseball with his 5.86 ERA/6.19 FIP. This is an easy one.
Bet Giants -1.5 (-105) at: [text-blocks id="87″ slug="bet-mlb"]
[text-blocks id="110″ slug="middle-ad"]
Boston Red Sox vs. Baltimore Orioles Betting Tips:
This line surprised me a bit as the Red Sox are the best offense against righties in baseball with a .823 OPS/120 wRC+ on the year. They are 32 points higher in OPS than the next highest team and have just killed righties this year. Dylan Bundy has a 4.04 ERA/4.56 FIP on the year with an ugly 1.9 HR/9. He's actually been far worse at home this year and the Red Sox tagged him for three homeruns the last time they faced him. A lot to like about Boston here.
Steven Wright goes for the Red Sox and while there is always a risk in a knuckleballer, he has looked good this year. His numbers are right in line with his 2016 numbers when he was an All-Star and he's had success in Baltimore throughout his career.
At the end of the day though, this is the Red Sox who are one of the best teams in the league against Baltimore, one of the worst teams in the league. The line is only -105, essentially a pick. How is this possible?
Bet Red Sox -105 at: [text-blocks id="87″ slug="bet-mlb"]
[text-blocks id="418″ slug="best-sportsbooks"]
Follow @SBTSportBetting