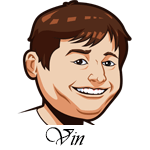 Follow @SBTSportBetting
A 1-1 record last night.
The Red Sox offense was probably my favorite on the board last night, but they didn't seem to want to wake up. Despite a favorable match-up for them, this game was 0-0 into the 12th inning. Well, luckily for us you can't keep a good offense down. Boston managed two runs in the 12th off Mychal Givens and Craig Kimbrel closed the door for the win.
Our loss was the Giants against the Marlins. Not sure what happened here as Madison Bumgarner was doing well, but the sixth inning caused trouble for him. The bullpen then didn't do him any favors and they ended up dropping this one 5-7. I'd take the Giants here again as that type of offensive explosion just isn't in the Marlins DNA. I definitely think they should've taken Bumgarner out a bit earlier in this one.
I was happy with the first night of my system as a couple of the games that scored well ended up how the system said it would and I will be rolling out some more picks using that today. I'm feeling good about the system though as the game it has as lowest score has the lowest total and the game it sees as most lopsided has the biggest moneyline. Games that the system likes, but I won't be putting out for whatever reason are as follows:
– Dodgers over Rangers (want to wait and see on Kenta Maeda off the DL)
– Pirates over Diamondbacks (only half a run difference, small sample on Clay Bucholz)
– Cardinals over Padres (still trying to figure out how to adjust for bullpen games)
– Indians over White Sox (Adam Plutko small sample size)
[text-blocks id="137″ slug="email"]
Boston Red Sox vs. Baltimore Orioles Betting Tips:
The Red Sox offense is the favorite of my system in this match-up and why shouldn't they be? Nobody hits righties better than the Red Sox and they face David Hess today who is not as good as Dylan Bundy was yesterday. Hess has a 3.07 ERA, but a 5.49 FIP that reeks of regression. A low BABIP, a high left on base percentage and a Red Sox offense that crushes teams. Mookie Betts is back, J.D. Martinez is healthy and it's hard not to love the Red Sox here.
Baltimore is one of the worst teams in baseball against lefties with just a .667 OPS/81 wRC+. They are not good and they face a perfectly solid Eduardo Rodriguez. His 3.68 ERA/3.44 FIP isn't going to win any awards, but it is great to have on your team and perfect in this match-up.
Bet Red Sox -1.5 (-115) at: [text-blocks id="87″ slug="bet-mlb"]
New York Yankees vs. Washington Nationals Betting Tips:
I'll be honest, this one surprised me when the system spit it out. Tanner Roark is nothing special with a 3.56 ERA/4.09 FIP, but I didn't expect to see the system spit them out as such a big favorite. They have one of the best offenses in the league and it appears that Roark won't have the stuff to shut them down.
The Nationals have really struggled against lefties this year with just a .698 OPS/87 wRC+ on the year and the system expects CC Sabathia to get the job done. He has a 3.59 ERA/4.72 FIP on the year, but the Yankees bullpen is so solid behind him that they should be able to hold whatever lead he gives them. I wish this game was a bit lower, like -150 or so, but I am going to trust the system and lay the runs.
Bet Yankees -1.5 (+130) at: [text-blocks id="87″ slug="bet-mlb"]
[text-blocks id="110″ slug="middle-ad"]
San Francisco Giants vs. Miami Marlins Betting Tips:
The Giants continue to get no respect in Miami as they are just a small favorite against one of the worst teams in the league. Chris Stratton is not a sexy pick or a guy I'd usually target as his 4.63 ERA/4.30 FIP is nothing to get excited about, but this match-up is too nice. The Marlins are horrible against righties with a .647 OPS/79 wRC+. They are the kind of offense that can make a middling pitcher look great.
Trevor Richards is someone that this Giants offense can get to. He has a 5.02 ERA/4.64 FIP on the year and the Giants offense is getting hot. They have a .749 OPS against righties on the season and over the past 30 days are actually the best offense in baseball with a .286/.341/.474 slash line, good for a 123 wRC+. They are getting it done and deserve better than this piddly line. Jump on it.
Bet Giants -119 at: [text-blocks id="87″ slug="bet-mlb"]
Houston Astros vs. Oakland Athletics Betting Tips:
I told you that you'd be seeing a lot of the Astros here. This is the near perfect place to grab them as they are only a small favorite on the road, but they should be much bigger based on the stats. Lance McCullers Jr. is yet another great Astros starter with a 3.94 ERA/3.74 FIP on the year. He is a big time groundball pitcher and barely allows any homeruns. The A's have a .740 OPS/104 wRC+ against righties, but so much of that is in their slugging which McCullers has proven to suppress.
Daniel Mengden is coming off a rough start, but still has a 3.45 ERA/3.88 FIP on the year. Those numbers are propped up by a low BABIP which will come back to haunt him. He has really low strikeout numbers and relies on contact for outs, which is not something you want to do against the Astros. They have a .732 OPS/105 wRC+ and one of the best bullpens in the league. They will get a lead and they will hold it.
Bet Astros -138 at: [text-blocks id="87″ slug="bet-mlb"]
[text-blocks id="418″ slug="best-sportsbooks"]
Follow @SBTSportBetting