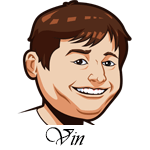 Follow @SBTSportBetting
Last night, the Warriors kept their season alive by getting a big win in Toronto to send this thing back to Oakland. The team shot outstanding from three and played some great defense in this game, but the cost might be too much.
Kevin Durant made his return in this one and his impact was felt immediately. He was a bit slow, but he was making shots and changing the defense. Then he went down with an injury that was much worse than he had at the start of this whole thing. It's looking like he ruptured his Achilles and is going to miss a big portion of next season. This not only changes this series but has a big effect on this year's free agency that he was expected to be highly courted in.
For now, we can only look to game six. The Raptors have to really be kicking themselves after that loss, especially with that lead they had late, and it'll be interesting to see how they bounce back. The Warriors were lost without Durant and now need to figure out how they are going to get it done knowing he won't be back.
Game six is Thursday and the earliest line has the Warriors as a -3 favorite. That's about in line with how the rest of the series has gone for the home team, but it's still surprising to see the Raptors getting so many points after the way they have played. Clinching on the road is always hard, but I don't think that kind of thing bothers Kawhi Leonard. I don't think anything bothers him. It's the rest of his teammates that he needs to worry
Notable Upcoming Bets:
MLB Betting Tips:
Cincinnati Reds at Cleveland Indians: The Indians offense has been really bad this season. Jose Ramirez has really underperformed and the collection of outfielders this team fields is simply embarrassing. They draw a really tough match-up against the Reds today who send Luis Castillo to the mound for the start. Castillo has had a real breakout season thus far. As good as he's been, the Reds bullpen has been even better and is carrying this team right now.
While Trevor Bauer is definitely among the elite pitchers in the American League, his home numbers have really stunk this season. He's just given up a lot of homeruns in his home park and that has really cost him. I expect that to cost him again today and for the Reds to do their thing against this offense.
Pittsburgh Pirates at Atlanta Braves: Two pitchers that are having really rough seasons face in this one as Chris Archer goes against Mike Foltynewicz. These two have both really struggled this season with ERAs in the 5+ range. Throw in that these have been two of the worst bullpens out there and this game looks like a great place to grab the over. Both of the offenses have really been heating up at the plate of late.
Bet Pirates/Braves Over 10 Runs
Follow @SBTSportBetting