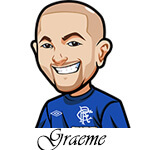 Follow @SBTSportBetting
What a performance by Rory McIlroy on Sunday at the RBC Canadian Open.
Those last two rounds were incredible.
Rory is unfortunately one of those golfers that at this point, I believe has to be on my unbettable list permanently.
The problem with Rory is he is capable of a performance like that but you never know when you're going to see it.
On his day I don't think there's one golfer that can beat him. However over the last year I've found that current form and course history and metrics just don't apply to Rory – it's a case of sometimes something just clicks.
I spent the last couple of days studying Rory intensively to see if I could figure out what it is that makes him tick. Nothing on the surface that I can really see.
What a player. It was a wash with the betting tips last week with only one even making the cut which was surprising, so it was good to at least get the Rory entertainment going on.
I think he's one of those golfers where you just have to watch his mood, and prepare to live bet. In the 3rd round he just looked like he was having time of his life – seems like the only way we can bet Rory is if we do live bets.
This week we have the 2019 US Open. Let's get to it:
US Open 2019 Betting Tips:
We've got 4 strong favourites going into this one. Rory McIlroy, Dustin Johnson, Brooks Koepka and Tiger Woods. Strategy is to bet one of them to win, then look for value elsewhere for the e/w placing which is top 8 at Bet365
It's at Pebble Beach for the first time since 2010.
Tiger Woods 12/1: 1u to win: Predicting the winner out of the favoured 4 was a tough call. I was able to easily eliminate Rory because like I said – I can't figure that guy out and I just can't bet him. Then if he wins I just have to suck it up (and hopefully learn for the future).
After correctly tipping Brooks to win the PGA Championship, I said he was basically an automatic bet from here on out when it comes to the Majors. Yet despite that I can't pull the trigger on him here. Not just the pressure but I think Pebble Beach just doesn't suit his game.
DJ vs Tiger is a tough one. DJ has a great history at Pebble. Problem is he has been a tough one to bet or count on lately. Tiger – the problem with him is he's a public favourite so the odds never reflect his true status and it's usually an -EV bet.
However he knows Augusta. Honestly Tiger is one of those that it wouldn't surprise me if he doesn't show up at all, but out of the top 4 I feel okay picking him.
I should note I'm already HATING not picking Brooks ha. Especially when I look around and see so many other people saying not to pick Brooks. Part of me hope he proves everyone else wrong. I'll be cheering for him regardless.
Adam Scott 33/1: 1u to win & E/W. Doesn't really have the solid history at Pebble Beach however metric wise lately, he really stands out here. His putting is getting better too and he is coming out in the zone. Might be one of those things where he just happens to peak at the right time.
Jordan Spieth: 22/1: 1/2u to win & E/W. At the price, I think we've got to back Spieth here. He's something I unfortunately don't really have confidence in the latter rounds, but you have to look at how impressive his game is lately. Worth a play.
Patrick Cantlay 18/1: 1/4u to win & E/W. Opposite of Spieth in that his price is almost too low to bet but I just had to throw a 1/4u on him. Incoming form is excellent, Majors recent history has been fantastic and does well at Pebble Beach. Checks all the boxes.
Brandt Snedeker 50/1: 1/4u to win & E/W. Seems to perform well at the US Open no matter the course. 4th place last time out so in form and also does well at Pebble. 2nd this year in Strokes Gained Around the Green as well as a top 10 in Strokes gained putting and coming in on fire.
Phil Mickelson 55/1: 1/4u to win & E/W. How do you not bet big Phil here? Sensational record at Pebble Beach and while his game at the moment is brutal, it's hard not to back him on this course.
Gary Woodland: 80/1: 1/4u to win & E/W. Has the driving ability which could really help on Pebble Beach. His Majors history coming in here is solid with two top 10s in the last three. Missed quite a few cuts at Pebble Beach but also had a 5th place in 2016. Incoming form is nothing solid but worth a bet.
Follow @SBTSportBetting