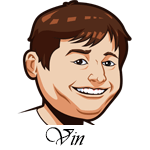 Follow @SBTSportBetting
A tough 1-2 yesterday.
The Cubs bats just didn't show up against Jhoulys Chacin yesterday. They had more hits and more walks than the Brewers, but were unable to score any runs. They left 13 men on base for this one. What hurts about this one is that the Cubs stacked lefties big time as Chacin has a FIP two runs higher against lefties, but they still couldn't get it done. Actually, what hurts here is that the Brewers did exactly what I figured them to do and we still lost. 0-1!
The Red Sox were as easy of a win as I thought they would be. Mookie Betts and J.D. Martinez homered and Chris Sale pitched a gem. This was the most lopsided game you'll see all year.
San Francisco's bullpen ruined what could've been a nice winning night as they continued to lose to the Marlins. Justin Bour tied this game twice as the Marlins kept on coming back in this one. The Giants allowed a run in the eight and another in the ninth to lose by one. I was hesitant to take this and I should've just ignored it. The Marlins have their number for some reason.
Funnily enough, the system loves them again today. Even moreso than yesterday, as they see it as a -1.5 play. I'm going to have to skip it though. Dereck Rodriguez has had some struggles and I'm not sure I trust him on the road. They could very well win this one and they probably will, but I just can't do it.
Two other games that are so close system wise as they are right around my threshold, but I am not playing are Indians over White Sox (Sox have their number right now for whatever reason) and Braves over Padres (I don't trust Anibal Sanchez).
[text-blocks id="137″ slug="email"]
Philadelphia Phillies vs. Toronto Blue Jays Betting Tips:
This one is a bit of a risk, but I see both offenses going under their average runs per game in this one and the total staying low. German Marquez is a completely different pitcher away from Coors Field as he has a 2.06 ERA/3.39 FIP in road starts compared to 7.71 ERA/6.07 FIP at home. The Phillies offense has been below average against righties this year with just a .698 OPS/90 wRC+.
Vince Velasquez has huge strikeout stuff and huge blowup potential. When he's on, he's one of the best in the game. He was tagged for 10 runs by the Brewers his last time out. He had to ride that one out for his team and I think a lot of people will be against him today because of it. Before that game he had six straight starts of 3 runs or less allowed. That's the guy I'm looking for today. With the Rockies having just a .703 OPS/75 wRC+ against righties, I think we'll get it.
Bet Rockies/Phillies Under 8.5 Runs at: [text-blocks id="87″ slug="bet-mlb"]
[text-blocks id="110″ slug="middle-ad"]
Tampa Rays vs. New York Yankees Betting Tips:
I'm loving the Germans today. First German Marquez, now Domingo German. I've went with him before as I know he is due for some regression with a 5.32 ERA/4.45 FIP/3.97 xFIP on the year. Keeping the ball in the park will help and the Rays .134 isolated slugging against righties is 26th in baseball, so that should help him do that.
The key match-up for me here is Blake Snell against this Yankees offense at home. I think he's a heck of a pitcher, but this is the Yankees. They have an insane .807 OPS/120 wRC+ against lefties with an enormous .211 isolated slugging. Snell is due for some negative regression with a 2.30 ERA/3.31 FIP and he always struggles against NYY. He has a 3.41 ERA for his career, but against the Yankees it's 4.58 and at Yankee Stadium it's 6.55 in five starts. Yikes.
The moneyline on this one is -160, but I'll be laying the -1.5 as this is the system's favorite game of the day.
Bet Yankees -1.5 (+135) at: [text-blocks id="87″ slug="bet-mlb"]
Seattle Mariners vs. Boston Red Sox Betting Tips:
This is the system's other favorite for the night and I completely get it. The Mariners have been hot lately, but it has been so many late inning heroics and so many one-run wins. They've pulled out some crazy wins against teams like the Angels and Rays, but this is the Red Sox. The elite of the American League.
Felix Hernandez makes me so sad. His strikeouts are down, walks are up and his groundball rate is down. It's not good. He has a 5.70 ERA/4.77 FIP thus far and today faces the best offense in baseball against right handers.
Seattle has hit lefties very well this year with a .775 OPS/116 wRC+, but the system likes David Price to do better than Felix today and the bullpen is much better. Price has a 4.00 ERA/3.64 FIP on the year which isn't super impressive, but then you look at Felix's stats and you get it.
Bet Boston -131 at: [text-blocks id="87″ slug="bet-mlb"]
[text-blocks id="110″ slug="middle-ad"]
Follow @SBTSportBetting