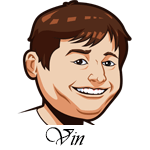 Follow @SBTSportBetting
What a big day for sports today is. The U.S. Open, one of golf's majors, started today in what looks to be a crazy tournament with weather playing a major factor. Even bigger than that, we have the World Cup starting today with the host country Russia facing off with Saudi Arabia. There are going to be a ton of games over the next couple weeks as the World Cup takes over the world. I can't wait.
All of that stuff started way early today so we won't be putting any plays on them. Thankfully for us, we have baseball. In the summer, there is always baseball and that is a relief when you are looking to make some winnings plays. We also have the CFL ramping up tonight so we'll have a pick on that as well. Let's get into it.
Notable Upcoming Bets:
MLB Betting Tips:
The Yankees are one of the top offenses in baseball and today they face a lefty at home. Yes, please. While Blake Snell is a talented pitcher who is having a solid year, he's always had major problems playing the Yankees. He has a 4.58 ERA against the Yankees and a 6.55 ERA at Yankee Stadium, compared to a 3.41 ERA overall. That's not good. The Yankees are scoring huge runs per game and have the best slugging percentage against lefties in baseball. I don't see this one ending well for Tampa. You can bet the Yankees -160, but I am going for the kill and betting Yankees -1.5 (+135).
The saddest thing in baseball might be what is going on with Felix Hernandez. He has been one of the very best pitchers in the game throughout his career, but he has entered his twilight and is having one of his worst seasons ever. His strikeouts are down, his walks are up and he's not even getting the groundballs at the rate he used to. The Mariners have been hot of late, but they face a Red Sox offense that is best in baseball against right handed pitchers. That doesn't bode well for King Felix. The Red Sox send David Price and while Seattle has been decent against lefties, I just see Felix digging them a hole here today. Seattle has been hot of late with a lot of one-run and come from behind wins, but this is the Red Sox. That won't be so easy here. Boston -131 is the play.
CFL Betting Tips:
A tough start to the Blue Bombers season as they lost their quarterback, Matt Nichols, for four to six weeks. Back-up Chris Steveler will take his place and it's easy to see why the Eskimos come into this game as such a huge road favorite. I think the Eskimos will be selling out on the run game as the Bombers can't trust Nichols too much with the passing game. This bodes well for their defense and I think they can easily cover this spread tonight. Mike Reilly is a perennial MVP candidate and I just see the Eskimos having more success today. Taking Edmonton -7.5 here.
Follow @SBTSportBetting