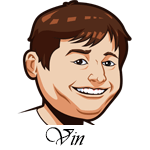 Follow @SBTSportBetting


[Get Exclusive Tips on our Patreon, Ad-Free
]
June was an incredible month for us record wise as we went 50-40, just below 56% winning. That's not what made it incredible though.
The month started slow with a lot of bad losses. I finally got fed up and put the finishing touches on my betting system. The system takes into account the quality of offense, starting pitcher, bullpens, team splits, ballpark factors and home field advantage. It's all the stats I was looking at to make my picks, but put into an algorithm that took some of the guesswork out of it.
Since debuting the system on June 11th, our record was 38-23 to end the month. A nearly 64% percent winning percentage and a total of +8.13 units.
We renewed our focus on moneylines this month and it paid dividends. Those bets went 27-15 for us this month. Towards the end I tried to be pickier with runlines as well and for the month those bets went 20-17 for a small profit. Totals were the big loser this month as they went 3-8.
Our complete June record is below.
| | | | | | | | |
| --- | --- | --- | --- | --- | --- | --- | --- |
| DATE | TEAM | TYPE | ODDS | +/- | WIN | LOSS | PUSH |
| 06/01/18 | Cubs/Mets 9 | Over | -110 | $90.91 | 1 | | |
| 06/01/18 | Cardinals | Moneyline | -126 | -$100.00 | | 1 | |
| 06/01/18 | Indians/Twins 4.5 | Under F5 | -110 | -$100.00 | | 1 | |
| 06/02/18 | Tigers | Moneyline | 122 | -$100.00 | | 1 | |
| 06/02/18 | Athletics -1.5 | Runline | 105 | $105.00 | 1 | | |
| 06/02/18 | Astros -1.5 | Runline | -115 | -$100.00 | | 1 | |
| 06/03/18 | Cubs -1.5 | Runline | 100 | $100.00 | 1 | | |
| 06/03/18 | Padres | Moneyline | -110 | $90.91 | 1 | | |
| 06/04/18 | Yankees -1.5 | Runline | -130 | -$100.00 | | 1 | |
| 06/04/18 | Braves | Moneyline | -114 | -$100.00 | | 1 | |
| 06/04/18 | Diamondbacks | Moneyline | -112 | -$100.00 | | 1 | |
| 06/05/18 | Nationals -1.5 | Runline | -115 | $86.96 | 1 | | |
| 06/05/18 | Reds/Rockies 8.5 | Over | -110 | $90.91 | 1 | | |
| 06/05/18 | Mets/Orioles 8.5 | Over | -110 | -$100.00 | | 1 | |
| 06/05/18 | Giants | Moneyline | -140 | -$100.00 | | 1 | |
| 06/06/18 | Indians/Brewers 8.5 | Over | -110 | -$100.00 | | 1 | |
| 06/06/18 | Braves | Moneyline | -129 | -$100.00 | | 1 | |
| 06/06/18 | Rockies | Moneyline | -135 | $74.07 | 1 | | |
| 06/06/18 | Athletics | Moneyline | -112 | -$100.00 | | 1 | |
| 06/07/18 | Astros -1.5 | Runline | -125 | $80.00 | 1 | | |
| 06/08/18 | Mariners | Moneyline | -132 | $75.76 | 1 | | |
| 06/08/18 | Astros -1.5 | Runline | -130 | $76.92 | 1 | | |
| 06/08/18 | Angels | Moneyline | -128 | $78.13 | 1 | | |
| 06/08/18 | Dodgers -1.5 | Runline | 105 | $105.00 | 1 | | |
| 06/09/18 | White Sox +1.5 | Runline | -105 | -$100.00 | | 1 | |
| 06/09/18 | Astros -1.5 | Runline | -117 | -$100.00 | | 1 | |
| 06/09/18 | Dodgers -1.5 | Runline | 120 | -$100.00 | | 1 | |
| 06/10/18 | Cubs -1.5 | Runline | -110 | -$100.00 | | 1 | |
| 06/10/18 | Astros -1.5 | Runline | -126 | -$100.00 | | 1 | |
| 06/11/18 | Giants -1.5 | Runline | -105 | -$100.00 | | 1 | |
| 06/11/18 | Red Sox | Moneyline | -105 | $95.24 | 1 | | |
| 06/12/18 | Red Sox -1.5 | Runline | -115 | $86.96 | 1 | | |
| 06/12/18 | Yankees -1.5 | Runline | 130 | $130.00 | 1 | | |
| 06/12/18 | Giants | Moneyline | -119 | -$100.00 | | 1 | |
| 06/12/18 | Astros | Moneyline | -138 | $72.46 | 1 | | |
| 06/13/18 | Cubs | Moneyline | -106 | -$100.00 | | 1 | |
| 06/13/18 | Red Sox -1.5 | Runline | -135 | $74.07 | 1 | | |
| 06/13/18 | Giants | Moneyline | -111 | -$100.00 | | 1 | |
| 06/14/18 | Rockies/Phillies 8.5 | Under | -110 | -$100.00 | | 1 | |
| 06/14/18 | Yankees -1.5 | Runline | 135 | -$100.00 | | 1 | |
| 06/14/18 | Red Sox | Moneyline | -131 | $76.34 | 1 | | |
| 06/15/18 | Marlins/Orioles 8.5 | Under | -110 | $90.91 | 1 | | |
| 06/15/18 | Mariners | Moneyline | -145 | $68.97 | 1 | | |
| 06/16/18 | Astros -1.5 | Runline | -130 | $76.92 | 1 | | |
| 06/16/18 | Cubs | Moneyline | -114 | $87.72 | 1 | | |
| 06/16/18 | Giants/Dodgers 7.5 | Over | -110 | -$100.00 | | 1 | |
| 06/16/18 | Diamondbacks -1.5 | Runline | 130 | -$100.00 | | 1 | |
| 06/18/18 | Rangers | Moneyline | -116 | $86.21 | 1 | | |
| 06/18/18 | Astros -1.5 | Runline | -128 | -$100.00 | | 1 | |
| 06/18/18 | Giants -1.5 | Runline | 130 | -$100.00 | | 1 | |
| 06/19/18 | Yankees -1.5 | Runline | 115 | $115.00 | 1 | | |
| 06/19/18 | Braves | Moneyline | -112 | $89.29 | 1 | | |
| 06/19/18 | Indians -1.5 | Runline | -101 | $99.01 | 1 | | |
| 06/19/18 | Astros -1.5 | Runline | -125 | -$100.00 | | 1 | |
| 06/19/18 | Red Sox -1.5 | Runline | -130 | -$100.00 | | 1 | |
| 06/20/18 | Indians -1.5 | Runline | -161 | $62.11 | 1 | | |
| 06/20/18 | Yankees -1.5 | Runline | 105 | $105.00 | 1 | | |
| 06/20/18 | Astros -1.5 | Runline | -130 | $76.92 | 1 | | |
| 06/20/18 | Red Sox | Moneyline | -147 | -$100.00 | | 1 | |
| 06/21/18 | Yankees -1.5 | Runline | 100 | -$100.00 | | 1 | |
| 06/21/18 | Red Sox | Moneyline | -120 | $83.33 | 1 | | |
| 06/21/18 | Rockies | Moneyline | -138 | $72.46 | 1 | | |
| 06/21/18 | Cubs | Moneyline | -150 | -$100.00 | | 1 | |
| 06/22/18 | Dodgers | Moneyline | -144 | $69.44 | 1 | | |
| 06/22/18 | Indians -1.5 | Runline | 105 | $105.00 | 1 | | |
| 06/22/18 | Yankees | Moneyline | -155 | -$100.00 | | 1 | |
| 06/22/18 | Braves -1.5 | Runline | 110 | -$100.00 | | 1 | |
| 06/22/18 | Rockies -1.5 | Runline | -130 | $76.92 | 1 | | |
| 06/23/18 | Yankees/Rays 8 | Over | -110 | -$100.00 | | 1 | |
| 06/23/18 | Twins | Moneyline | -136 | -$100.00 | | 1 | |
| 06/24/18 | Dodgers | Moneyline | -166 | $60.24 | 1 | | |
| 06/24/18 | Astros -1.5 | Runline | -160 | $62.50 | 1 | | |
| 06/25/18 | Mariners | Moneyline | -119 | $84.03 | 1 | | |
| 06/25/18 | Rays | Moneyline | -121 | $82.64 | 1 | | |
| 06/25/18 | Rangers/Padres 9.5 | Under | -110 | -$100.00 | | 1 | |
| 06/26/18 | Mariners | Moneyline | -140 | $71.43 | 1 | | |
| 06/26/18 | Brewers -1.5 | Runline | -110 | $90.91 | 1 | | |
| 06/26/18 | Astros -1.5 | Runline | -125 | $80.00 | 1 | | |
| 06/27/18 | Astros -1.5 | Runline | -115 | -$100.00 | | 1 | |
| 06/27/18 | Diamondbacks | Moneyline | -160 | $62.50 | 1 | | |
| 06/27/18 | Mariners | Moneyline | -111 | $90.09 | 1 | | |
| 06/28/18 | Mariners | Moneyline | -142 | $70.42 | 1 | | |
| 06/28/18 | Phillies | Moneyline | -133 | $75.19 | 1 | | |
| 06/28/18 | Red Sox | Moneyline | -133 | $75.19 | 1 | | |
| 06/29/18 | Angels | Moneyline | -146 | $68.49 | 1 | | |
| 06/29/18 | Yankees | Moneyline | -125 | $80.00 | 1 | | |
| 06/29/18 | Diamondbacks | Moneyline | -145 | -$100.00 | | 1 | |
| 06/30/18 | Angels | Moneyline | -145 | $68.97 | 1 | | |
| 06/30/18 | Phillies | Moneyline | -111 | $90.09 | 1 | | |
| 06/30/18 | Diamondbacks/Giants 8.5 | Over | -100 | -$100.00 | | 1 | |
| | | | | | | | |
| | | | Winning% | +/- UNITS | WIN | LOSS | PUSH |
| | MONTH | | 55.56% | 1.68 | 50 | 40 | 0 |
| | SYSTEM | | 62.30% | 8.13 | 38 | 23 | |
| | YTD | | 53.05% | -3.55 | 139 | 123 | 1 |
Follow @SBTSportBetting