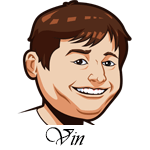 Follow @SBTSportBetting
The World Cup rolls on and we have already seen Saudi Arabia and Egypt have been eliminated from advancing to the next round. We could see that number grow over the next couple days as many other teams are in win or go home mode.
One of those games could be tomorrow morning's early match-up between Costa Rica and Brazil. Costa Rica lost their first and a game against Brazil is no easy task. This could be a tough one for them.
We also have some CFL action and plenty of MLB on the slate tonight. A lot of great betting opportunities. Let's get right into it.
CFL Betting Tips:
I am all about the Roughriders today. They beat the defending champions in the first game of the season and have completely owned the Redblacks over the past couple of seasons. This is a new look Redblacks team playing their first game together and that could cost them. The Riders have won 4 of their past five against Ottawa and I love them here. Saskatchewan +2.5 is my play.
Notable Upcoming Bets:
MLB Betting Tips:
This line is a bit higher than I normally target, but I can't imagine the Cubs -160 dropping this one to the Reds. Matt Harvey has had some really rough starts and homeruns have been a problem. The Cubs have absolutely owned the Reds over the past few seasons and I fully expect that to continue here. Kyle Hendricks is one of the Cubs more reliable starters and he does a good job of keeping the ball down. The Reds just aren't a good team on either side of the balls and I think the Cubs handle them easily here.
The Athletics -123 over the White Sox is another great pick today. Lucas Giolito has had some really ugly starts as well and the Athletics offense is very dangerous. Matt Olson, Matt Chapman and Khris Davis could get some bombs today. This is a nice play as the White Sox have been crushed a few times lately.
EDIT: This game has been called due to weather. Dang.
World Cup Betting Tips:
Reminder: This game takes place at 7am central time tomorrow so make sure you get your bet in early.
Brazil looked like the team we thought they would be early against the Swiss, but they just kind of cooled off and didn't play with the same confidence. With the game tied late, they just didn't seem to have it and couldn't find the goal. They are a better team than that and they know they need to win this one. Maybe they had a bit too much hubris or something like that, but today should be a lot better.
Costa Rica is a fun team from a small country, but imagining them winning this is tough to do. They lost 1-0 to Serbia and that was pretty much a game they had to win to have any hope in this block. Brazil is far more talented than Serbia while Costa Rica is not as talented as Switzerland. I think that the Brazil team will be really bloodthirsty here and go for the kill, Brazil -2 is the play.
Follow @SBTSportBetting