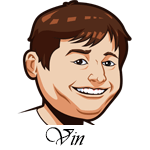 Follow @SBTSportBetting
A 3-1 record last night!
Sorry to everyone who didn't read the post as I accidentally mislabeled the post as June 19th. I wrote that one before midnight on Tuesday and that messed me up on the date. In case I ever do that again (since I probably will), if there are two posts with the same date you can probably assume the newer one is the current day.
It was very close to being a 2-2 night as the Mariners put on a great performance and had a 5-3 late. They got a bit of vintage Felix Hernandez (although the Yankees hit him well) and looked to grab the win. Then the bullpen happened, a tie game and a Giancarlo Stanton homerun to give us the cover. I took no pleasure in this.
The Indians over the White Sox was an easy win and the Astros over the Rays was also worry free. The lone loss, Boston losing to Minnesota, was another offensive no-show. If the Red Sox end up finishing second in the AL East they'll look back at these two games against the Twins and wonder what could've been. These were missed opportunities.
[text-blocks id="137″ slug="email"]
Seattle Mariners vs. New York Yankees Betting Tips:
This one gives me no pleasure, again. The Mariners will try to save the series with James Paxton, one of the best lefties going in the game. Only two problems here: The Yankees absolutely crush lefties and Luis Severino is on the other mound. No bueno.
The Yankees .817 OPS against lefties leads baseball and there are just too many dangerous bats here. I can see Paxton doing well, but in that scenario I see him leaving the game early with a high pitch count. I can see him being hit as well. There just aren't a lot of great options for Seattle today.
Luis Severino might be the best pitcher in baseball right now. Huge strikeout numbers, a good groundball rate and a 2.09 ERA/2.19 FIP pitching line, Severino is a tough pitcher. The Mariners are far better against lefties than righties and I just don't see a lot of hope here. Lay the runs.
Bet Yankees -1.5 (EVEN) at: [text-blocks id="87″ slug="bet-mlb"]
Boston Red Sox vs. Minnesota Twins Betting Tips:
If this moneyline wasn't so low, I'd probably skip this one. It's very decently priced so we're going to be taking it.
Stop me if you've heard this before: The Red Sox are the best team in baseball against right handed pitchers. Kyle Gibson is a right handed pitcher. He's having a decent year, but his 3.27 ERA/3.78 FIP covers up a high walk rate and a crazy low BABIP that will come back to bite him. The Red Sox are good at that sort of thing.
Rick Porcello is not my favorite pitcher to back, but the Twins are basically league average against righties and he does a good job keeping the walks down. His 3.70 ERA/3.27 FIP is about the same as Gibson's, but there is a huge difference between these offenses.
Bet the Red Sox -120 at: [text-blocks id="87″ slug="bet-mlb"]
[text-blocks id="110″ slug="middle-ad"]
New York Mets vs. Colorado Rockies Betting Tips:
Always a tricky bet when it comes to Coors Field. I really like the Rockies for one simple reason: the Mets are the worst team in the league against left handed pitchers. They have a 72 wRC+ that is dead last in the league against lefties. They are hitting for a .290 OBP/.323 SLG/.613 OPS. I don't care if it is Coors Field, that's bad.
Kyle Freeland has been good this year with a 3.59 ERA/3.89 FIP and is mostly the same guy at home. While the Rockies offense has disappointed this year, it's been much better against lefties. Steven Matz has a 3.31 ERA/5.06 FIP that reeks of regression and a low BABIP that could strike back at Coors. Loving the Rockies today.
Bet Rockies -138 at: [text-blocks id="87″ slug="bet-mlb"]
Chicago Cubs vs. Cincinnati Reds Betting Tips:
There are games that the system spits out a number on and I don't even bother looking. The Nationals with Scherzer against the Orioles is one of those. Of course it loved him, but that game was -300 and the runline was -155. That's too rich for my blood. The system also spit out a generous number for the Cubs against the Reds and I figured the same thing would be the case. Weirdly, it wasn't.
The Cubs own the Reds, they are 16-8 at the Reds over the past three years and should continue to dominate them here. I am not a Matt Harvey fan and his 5.92 ERA/5.34 FIP/4.57 xFIP in this ballpark, against this offense, excites me. The Cubs offense has had some troubles, but they feast on bad teams. The Reds are that.
Kyle Hendricks is having a decent season with a 3.55 ERA/4.64 FIP/4.06 xFIP and the Reds are below average against righties. This is an easy one for me.
Bet the Cubs -150 at: [text-blocks id="87″ slug="bet-mlb"]
[text-blocks id="418″ slug="best-sportsbooks"]
Follow @SBTSportBetting