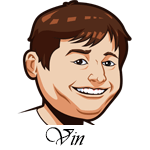 Follow @SBTSportBetting


[Get Exclusive Tips on our Patreon, Ad-Free
]
A 2-2 record last night.
The Yankees beat the Mariners by one run thus not covering the -1.5. Without that it would've been a winning night. Actually, without this play by Mitch Haniger it would've been a winning night.
The Red Sox won easily and the Rockies handled the Mets that sent us into the night games with a chance at a winning night.
The Cubs were looking great with a 2-0 lead in the sixth inning. Then everything fell apart, Jesse Winker hit a grand slam and the Cubs lost 6-2. That team really needs Anthony Rizzo to get his stuff together because with him struggling, the offense is just not the same.
A lot of good games according to the system tonight. The over on the Cubs/Reds looks good, but I won't be partaking in that. The Athletics -123 over the White Sox (game 2) also looks great, but I won't be partaking in that either. Why? Why would I not bet these great games? These other games are that much better, that's why.
Today's games have some of the best numbers I've seen from the system and I'm excited to get to them. One game that was really great is the Astros over the Royals, but the sportsbooks agree as there is a huge number on that one. I kind of like that though as it validates the system.
[text-blocks id="137″ slug="email"]
Los Angeles Dodgers vs. New York Mets Betting Tips:
Alex Wood is a solid lefty who is in need of some positive regression. He has a 4.22 ERA/3.30 FIP and he's had bad luck with his left on base percentage. He keeps the ball in the park and has low walk numbers. He should get it today as the Mets are the worst team against lefties in the league with just a .632 OPS.
The Dodgers have been climbing the rankings in the hitting categories of the past couple of months and are currently sitting at a .753 OPS/105 wRC+ against righties. The team has a .806 OPS over the past 30 days and are really starting to cook. They face Zack Wheeler today who I think they can punish. He has a 4.82 ERA/3.80 FIP on the year is walking over 3 per nine.
I would lay the runs here if I had to, but this moneyline is decent enough that we can just roll with that. The Dodgers should be a much bigger favorite here.
Bet Dodgers -144 at: [text-blocks id="87″ slug="bet-mlb"]
Detroit Tigers vs. Cleveland Indians Betting Tips:
No big surprise here. The Indians are great at home and have a .758 OPS against right handed starters. Mike Fiers has low strikeout numbers and is allowing 1.73 HR/9. He most definitely will allow another homerun here. He has a 4.09 ERA/4.89 FIP on the year and I like the Indians to chew him up.
Shane Bieber has made two major league starts and has looked decent. His strikeout numbers have been great and the projections see him as a 4-ish FIP guy the rest of the way. He gets a great match-up against this Tigers offense that is hitting for just a .691 OPS/86 wRC+ on the year.
This should be a blowout for the Indians and I will be laying the runs.
Bet Indians -1.5 (+105) at: [text-blocks id="87″ slug="bet-mlb"]
New York Yankees vs. Tampa Bay Rays Betting Tips:
The Rays are bullpening this game which doesn't scare me when it's the Yankees offense. Ryne Stanek will start and he has a 2.21 ERA/3.43 FIP on the year with a ridiculous .156 BABIP. He walks nearly four batters per nine and those two numbers make me excited to see how the Yankees handle him in the first two innings.
CC Sabathia is a decent veteran with a 3.30 ERA/4.29 FIP. The Rays have just a .711 OPS against lefties so he could have some success here today. Considering the Yankees have a .797 OPS on the season, that is a big enough advantage that they should probably be a much bigger favorite here.
Bet Yankees -155 at: [text-blocks id="87″ slug="bet-mlb"]
[text-blocks id="110″ slug="middle-ad"]
Baltimore Orioles vs. Atlanta Braves Betting Tips:
Sean Newcomb is having a heck of a season. He has a 2.70 ERA/3.23 FIP on the year and today faces a terrible Orioles offense. They have just a .674 OPS against lefties. While walks have been an issue for Newcomb, the Orioles are bottom third of the league with just an 8% walk rate against LH pitchers. I don't expect them to do much today as their offense has somehow been even worse on the road as well.
While the Braves offense isn't as great against righties as it lefties, Alex Cobb is very hittable. He has a 7.14 ERA/5.22 FIP on the year and his HR/9 is a rough 1.86. An early exit is likely and the Orioles bullpen is no saving grace.
Bet Braves -1.5 (+110) at: [text-blocks id="87″ slug="bet-mlb"]
Miami Marlins vs. Colorado Rockies Betting Tips:
The Rockies offense is starting to come around. It should come around even more today against Wei-Yen Chen at home. He has a 5.91 ERA/5.78 FIP on the year with a 1.77 HR/9. He's right near 50% flyballs which is not what you want to have when playing at Coors Field. The Rockies have a .795 OPS against lefties on the year. This is a great one.
Jon Gray is due. He has a 5.89 ERA/3.14 ERA/3.02 xFIP with over 11 strikeouts per year. The Marlins have a .665 OPS/82 wRC+ on the year with a terrible 26.2 strikeout percentage. That plays right into Gray's hands and I'm all over the Rox here today.
Bet Rockies -1.5 (-130) at: [text-blocks id="87″ slug="bet-mlb"]
[text-blocks id="418″ slug="best-sportsbooks"]
Follow @SBTSportBetting