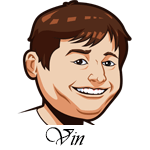 Follow @SBTSportBetting


[Get Exclusive Tips on our Patreon, Ad-Free
]
A 3-2 record last night that was thisclose to 4-1.
The Braves and Orioles played an insane game. The Braves were up 3-1 heading into the bottom of the ninth and I was counting my winning ticket. Then all hell broke loose and suddenly the score was 7-3. Atlanta managed to tie it in the bottom of the ninth and it took fifteen innings for the Orioles to win this. Bullpens do us in again.
Still, a winning night is a winning night. The Indians and Rockies absolutely rolled. While Alex Wood and the Dodgers was never in doubt.
The Yankees were our other loss and they made me realize something that needed tweaking in the system. I was giving them too much credit. I was crediting their high OPS and their high runs per game when one wouldn't exist without the other. So I've tweaked that and we'll call this a new version of the system. Let's call it Ichi-bot, after my favorite mustachioed player. I then tested it out against the day's lines and nearly nothing came up.
It worked a little too well as almost every game's total came within 0.6 runs of the posted total with just two outliers (Coors Field, which is always an outlier) and a pick down below. This is a weird day though as well with most of the games being between -160 and -110. So only a couple of games worth looking at here today.
The Ichi-bot is doing great thus far as we are 21-15 for +2 units since implementing it earlier this month. Hopefully these tweaks will allow us to do even better going forward.
[text-blocks id="137″ slug="email"]
Minnesota Twins vs. Texas Rangers Betting Tips:
If I didn't have access to the Ichi-bot, I'd still be on this one. What can I say about Yovani Gallardo? That's he wasn't good enough to pitch for the Reds this season? That he has 7 walks and two homeruns allowed in 7.1 innings this year? That he had an ERA over 5.40 in 2016 and 2017? That he's just done as a pitcher? The Twins offense has been hot lately (thanks again, Red Sox) and he is a very hittable pitcher.
Jake Odorizzi isn't great, but he's been getting better as his FIP has dropped in each month and he's been a much better pitcher at home. He's not a guy I would normally trust, but against this Rangers offense and Gallardo on the other mound, I'm all about him. Throw in the Twins as a home team and this is easy money.
Bet Twins -129 at: [text-blocks id="87″ slug="bet-mlb"]
[text-blocks id="110″ slug="middle-ad"]
New York Yankees vs. Tampa Bay Rays Betting Tips:
The Yankees against the bullpen game blew up on us yesterday, their offense looks really good again here today and that bad performance has me liking them even more here. You can't keep a good offense down for too many days in a row.
The Rays opener is a guy we've made hay with before in Wilmer Font. He has a 7.56 ERA/7.30 FIP/5.01 xFIP with crazy walk and homerun rates in just 33 innings. He has great stuff, but he's been hit hard. The Yankees could make him pay in the first two innings.
Sonny Gray is on the mound for the Yanks and he also has a 4.89 ERA/4.27 FIP. He is very hittable and the Rays should be able to put up some runs today. This total is just a tad too low for me and I'm taking the over.
Bet Rays/Yankees Over 8 at: [text-blocks id="87″ slug="bet-mlb"]
[text-blocks id="418″ slug="best-sportsbooks"]
Follow @SBTSportBetting