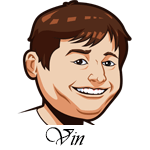 Follow @SBTSportBetting
A 2-0 record last night.
The Dodgers game was not quite what I expected. Sometimes weather wakes the bats up and day games do crazy things. That's okay, the Dodgers were the better offense and they proved it as they won in extras.
The Astros showed why I pick them so often as they just dominated the Royals. This game was 8-0 early and there was no need to keep watching. They dominated.
I'm a bit mad looking at the Ichi-bot just now as there is one game that I completely missed that looked like an easy over. That was the over 7.5 on the Yankees-Rays game. It's my own fault as I accidentally had Blake Snell plugged in as the starter in that one. I was a bit scared of the Yankees offense after the last couple days, but that would've been one of the top rated games on my board. Yankees should never have a O/U of 7.5.
[text-blocks id="137″ slug="email"]
Seattle Mariners vs. Baltimore Orioles Betting Tips:
It looks like the sportsbooks are sleeping on the Mariners. They are in control of the second Wild Card, but are coming off a brutal stretch in which their last ten games have been against the Red Sox and Yankees. It's been rough, but they are still pretty dang good and deserve much more respect against the Orioles.
I've had my worries about Felix Hernandez this season, but he has been great in June and that's with tough starts against the Red Sox and Yankees thrown in. He has a 2.63 FIP in June with all his numbers looking better. Will it last? I think it will tonight as the Orioles are a pretty weak hitting team on the year with just a .677 OPS against righties.
Seattle has a .734 OPS/105 wRC+ and Nelson Cruz is hot right now. He used to play in Baltimore and could have a nice homecoming with Andrew Cashner on the mound. He has a 1.53 HR/9 and 4.01 BB/9, good for a 4.72 ERA/5.02 FIP. Well, not good but you know what I mean. Felix has his FIP down to 4.50 on the year so they have the better starter, the better offense and the much better bullpen. Why is this line so low?
Bet Mariners -119 at: [text-blocks id="87″ slug="bet-mlb"]
[text-blocks id="110″ slug="middle-ad"]
Tampa Bay Rays vs. Washington Nationals:
The Rays pitching has been great over the past 30 days. A 3.10 ERA is second best in the league and that's with games against some of the toughest teams in baseball. Blake Snell is probably my favorite of their starters with a 2.48 ERA/3.62 FIP on the year and today has a great match-up against the Nationals. Washington has a .702/88 wRC+ on the year and has been mostly a letdown.
The Rays offense is right in the middle of the road and they have a 102 wRC+ against lefties on the year. Pretty crazy when you compare the two rosters of these teams. Gio Gonzalez is having a good year with a 3.08/3.65 FIP. He hasn't faced nearly the competition of an AL East pitcher and has seen his FIP rise in every month this year. His 5.52 FIP in June is ugly and I like the Rays today.
This is the "weakest" of my picks in the Ichi-bot, but I really like the Rays at this number. They are at home, they have the better starter and the better offense. Go Rays.
Bet Rays -121 at: [text-blocks id="87″ slug="bet-mlb"]
San Diego Padres vs. Texas Rangers Betting Tips:
I think this one is a bit of a risk because of the humidity and friendly hitting environment in Texas, but I think the offenses and pitching make it worthwhile.
Cole Hamels goes for the Rangers and while his home/road splits give me pause, the Padres offense lightens a lot of that. They have a .686 OPS/89 wRC+ against lefties this year and that's with a rather righty heavy lineup. He's gone 6IP+ in his past eight starts with 2 runs or less allowed in six of them. Not bad.
Joey Lucchesi has a 3.86 ERA/4.78 FIP/3.66 xFIP and I like his strikeout numbers and groundball tendencies. The Rangers strikeout nearly 24% of the time and as long as he keeps the ball in the park, he could have a good night. The Rangers .736/98 wRC+ against lefties is good, but not great.
I'm taking the under on this one as I think it's about a run too high.
Bet Rangers/Padres Under 9.5 at: [text-blocks id="87″ slug="bet-mlb"]
[text-blocks id="418″ slug="best-sportsbooks"]
Follow @SBTSportBetting