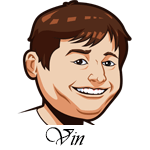 Follow @SBTSportBetting
The World Cup rolls on and we are getting to the part where teams need not just to win, but to win by scoring a lot of goals in order to move on. It's desperation time and we can see a brand of soccer that is more aggressive than we're used to. That should make for some fun games over the next couple of days. These games start early though so for the tip I post below, it will be for an early Wednesday morning game so you have plenty of time to bet it.
I'll do the same for the 2018 Champions Tour Senior US Open. This is one of the Senior Tour majors and there are some really great values on some of the top golfers in the field.
For those of you looking for something to bet today, don't worry I have you covered with some great MLB action. I've developed a system that has been pretty successful thus far and will be sharing some of those picks with you here today. Let's get into it.
Notable Upcoming Bets:
MLB Betting Tips:
The Astros are the hottest team in the league right now and they might be one of the greatest teams of all-time. They recently swept a ten-game road trip and have continued to roll as they play a stretch of home games. Tonight, I love them more than I've loved them in awhile. They are one of the top teams in the game against lefties and tonight face a middling Triple-A pitcher making his major league debut. Yes, please. The Jays are a tough offense, but the Astros pitching has been great this year and Charlie Morton has been better at home. I think this is a great time to lay the runs and the Astros -1.5 (-125) are my play of the day.
I also like the Mariners -140 quite a bit. They have James Paxton on the mound, who has been great this year, against the Orioles who have been one of the worst hitting teams in baseball this year. I don't know why this line is so low and I suggest jumping on it.
World Cup Betting Tips:
Mexico and Sweden could be a crazy game. Mexico has been one of the most exciting teams in the tournament and are the top of the group, but if they lose this one and Germany beats South Korea by two or more goals, they could be out here.
Sweden needs a win here as well. If they lose, they are left hoping for South Korea to beat Germany which feels unlikely. Both of these teams have serious stake in this game and that could lead to crazy things happening. Both teams will be playing to win and I think the over 2.5 goals is very likely to come through.
Champions Tour Senior US Open Betting Tips:
As always, with golf you do a lower bet stake and also bet each way (E/w) or top 5. These are huge fields and picking winners is tough. You have to spread it around a bit. My picks for this event are:
Paul Broadhurst +4400 to win and E/W: How is this line so high? Broadhurst has had some great wins this season and has won two of his past five tournaments. He always gets up for the majors and is fourth in the Charles Schwab Cup race. How is he not a favorite?
Colin Montgomerie +1800 to win and E/W: Coming in to this in great form as his last two tournaments he's finished top six and top three. He's been in the top three in eight senior majors with three other tops tens. He won this major in 2014 and then finished runner-up in 2015. He's ready to return to that stage here.
Scott McCarron +1200 to win and E/W: Probably the hottest golfer coming into the tourney, I have a hard time not putting anything on him here. He's coming off a win last weekend and finished T3 at the Senior PGA Championship. He's ready to add the Senior US Open to his collection.
Follow @SBTSportBetting