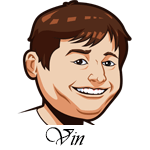 Follow @SBTSportBetting
The Warriors were able to even the series against the Raptors with a huge road win last night. This win may have come with some negative consequences that could cost the Warriors a championship though. Klay Thompson went down and left the game and never came back. He'll have an MRI to see how he is, but without Thompson and Kevin Durant – this team is in trouble. Even if they are able to get Kevin Durant back, the loss of Thompson hurts and makes this series a lot more favorable for the Raptors.
Tonight we see game four of the St. Louis Blues and Boston Bruins in the Stanley Cup Finals. The Blues are the home team, but that didn't do much for them in game three as the Bruins absolutely dominated to the tune of a 7-2 win. They now hold a 2-1 lead in the series and tonight is a near must-win for the Blues. They gave up home ice advantage that they stole in the first two games and can't lose it here.
Notable Upcoming Bets:
NHL Stanley Cup Finals Betting Tips:
Boston Bruins at St. Louis Blues: The Blues have been here before. They've lost home games throughout these playoffs, more than you'd expect from a team in the Stanley Cup final, and they've always found a way to bounce back. That loss was huge and embarrassing, and it should only serve to motivate this Blues team. St. Louis' penalty killing in game two was really rough and that is one area that I definitely see them tightening it up. I don't expect this to be a short series so I really see the Blues getting it done here tonight.
MLB Betting Tips:
Houston Astros at Seattle Mariners Betting Tips:
The Mariners bullpen has been one of the absolute worst in the league and has really cost this team over the past couple of months. They are 7-23 since the start of May and they are just not a good pick right now.
That said, the Astros send Corbin Martin tonight who has only made four starts this year and has given up six homeruns, including three in his last start. This Mariners offense has been very power heavy this season with good hitters like Edwin Encarnacion, Mitch Haniger, and Domingo Santana. They can put up runs.
Of course, the Mariners bullpen often gives it back. The Mariners start Wade LeBlanc here who is a lefty. He's a middling starter who is solid, but unspectacular. The problem is the hand he throws with, the Astros are one of the very best teams against lefties in this league and when you throw in the bullpen I find it hard not to fully back the Astros here. Even with the rough starter it's hard for me not to fully back the Astros here.
We're going with the double pick here.
Then we are following that one up with the over bet. I think that Corbin is good for at least three runs given up and the Mariners can easily cough up the rest.
Follow @SBTSportBetting