June 6th, 2019 Betting Tips: NHL, MLB, WNBA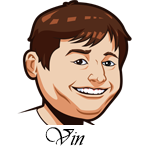 By
(Photo credit: AP Photo/Scott Kane)
Last night, we saw the Raptors take a 2-1 lead in the NBA Finals and they are now just two wins away from the championship. That is really huge for this team and a really exciting moment in their franchise history, no matter what the result.
Of course, the Warriors were without both Klay Thompson and Kevin Durant in this one. Stephen Curry had an amazing game, but this is the NBA Finals and one player can't do it all by himself. The Warriors need at least one of those two back, preferably both, if they want to win this series. Game four is tomorrow so hopefully, that will be enough rest for someone to come back and make this series as great as it looked on paper.
Tonight, we see game five of the Stanley Cup Finals. The Blues got a big home win in the last game to even the series and now things head back to Boston for game five. It's a three-game series at this point and tonight's game is a big one.
#1 Sportsbook Online for Americans

Good deposit bonus, lot of unique bets & props. Excellent mobile & live betting.
NHL Betting Tips:
St. Louis Blues at Boston Bruins: The Blues bounced back big time to tie the series in game four with a win at home to tie the series, but the real story might be the loss of Zdeno Chara. He took a puck to the face that took him out of the game and it looks like he'll be missing this game for them as well. That is a huge loss for them.
This series has been so even thus far that a loss like this could really shift the series. I think the Blues can keep their momentum going from the last game and grab a win here.
MLB Betting Tips:
Minnesota Twins at Cleveland Indians: The Twins are one of the best teams in the league this season with an offense that has been absolutely tearing things up. Trevor Bauer has struggled at home this year with homeruns being an issue. The Twins send Jose Berrios who has been their ace and I like the Twins quite a bit today.
Oakland Athletics at Los Angeles Angels: The Athletics send Mike Fiers to the mound and he's a pitcher that I love to go against when I can. He has a 5+ ERA on the season and that is including a start where he threw a complete game no-hitter. The Angels offense hits the ball well and they send Tyler Skaggs to the mound here. Oakland hits lefties well, but Skaggs has really been great at home and the Angels look like a great play.
WNBA Betting Tips:
Phoenix Mercury at Minnesota Lynx: The Lynx have been one of the best teams in the league thus far this season with a 3-1 record. They return home here after a tough loss on the road and I expect them to bounce back well. The Mercury will be without Diana Taurasi which is a big loss for them and I think the Lynx can grab the win here.
#1 Sportsbook Online for Americans

Good deposit bonus, lot of unique bets & props. Excellent mobile & live betting.