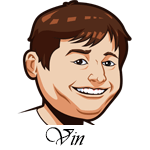 Follow @SBTSportBetting
A 1-1 record with our tips yesterday.
Soccer is really annoying to me sometimes as we picked Hoffenheim to win and they were up 2-1 late, but then a red card lead to a goal for Dusseldorf and we ended up with the tie. That said, Hoffenheim should probably count their blessings to end up with a tie as they only managed four shots on goal in this game.
We did manage the good win with Belenses at +140 in Portugal Primeira Liga. They got the win 2-0 here so that was nice and made it a slight profit for the day.
Tonight we have UFC 250 and tomorrow we have an early NASCAR race. I have tips for both below.
Notable Upcoming Bets:
UFC 250 Betting Tips:
Neil Magny vs. Anthony Rocco Martin: I think Magny is one of the best plays on the board tonight. This fight is happening at 170 and Magny is a true 170 while his opponent Rocco Martin is a fighter who jumps between 155 and 170. This fight will also take palce in the smaller 25′ cage which I think also favors Magny. His style is to push his opponent against the cage and to clinch so the smaller space would definitely favor him here. This could be a grind that goes to a decision, but I see Magny getting the win.
NASCAR Betting Tips:
This race takes place tomorrow at 2:23 PM EST.
We've done well with NASCAR's Cup Series of late so let's keep that going here. I like to post three picks for winners that that I place small bets on and then maybe a couple of props. There are no good props that I have seen thus far so I am just going to pick some winners. We have picked the winner in our last two races among our three picks.
My winner picks for the Folds Of Honor QuikTrip 500 @ Atlanta Motor Speedway:
Brad Keselowski +800: He's won two of the last three races and it's hard to go against him right now. He's been running well and starts from a high position here as well. He's won this race twice in three years and is definitely worth a play here.
Alex Bowman +750: Bowman is a guy that has been running really well of late, but issues have caused his finishes to be low. He lead two stages of the Coca-Cola 600 before getting squeezed in the final stage and he got a DNF last week. He doesn't have a great record at this track, but he is a fast rising driver and I could see him grabbing his first win here.
Martin Truex Jr. +800: The way he has ran this season, it seems like Truex should have a win by now. Much like Bowman he's had a lot of bad luck this season and I think that run could end here. When racing at Atlanta he has a +12 place differential for his career. Considering he is starting in the 11th position, that's a pretty good odds for a win if he holds true to form.
Follow @SBTSportBetting