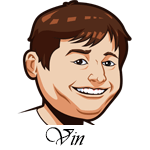 Follow @SBTSportBetting


[Get Exclusive Tips on our Patreon, Ad-Free
]
1-0 record last night.
The Astros always get it done for us when we need them to. The match-up was just perfect as Gerrit Cole has been amazing, the Astros had the top wRC+ against lefties in the league, Cole Hamels was due for some regression and everything else. That type of confluence of events is what I am looking for in every pick, but they don't all come in and they're rarely as perfect as that set-up. The Astros are great, the Rangers are not. Sometimes this is easy.
While a lot of eyes will be on the NBA Finals tonight (check out my tips over at NBATips.net), there is a full slate of MLB games tonight with some solid betting options for us. Let's get into tonight's tips and keep the winning plays going.
[text-blocks id="137″ slug="email"]
Seattle Mariners vs. Tampa Bay Rays Betting Tips:
The Mariners have been playing great baseball, but they have had so many one-run wins that it's hard to make any money on them. The lines are always high and the runline is the only way to get a decent price. This really bit us hard last month and we had to take a break from picking them. They have been hot though and I really like their match-up against the Rays tonight.
The Rays are using Wilmer Font as the "opener" in this one and while he won't last long, I like the Mariners chances against him early. Ryon Healy took him deep the last time he faced Seattle and he is on his third team of the year with a total 9.78 ERA/8.94 FIP. He's got some big stuff, but he doesn't know quite what to do with it and the chances of implosion are high. I *think* Matt Andriese is going to follow him and while he has a 3.31 ERA/3.14 FIP on the year, that is a full run short of his career numbers and I like the Mariners offense here.
Marco Gonzales has been key to the Mariners success this year and he has a 3.38 ERA/3.22 FIP on the year. He's done great keeping his walks down and can strike some guys out. That plays right into the Rays offense who have a lower walk rate and higher strike out rate. Good value on Seattle today and I like them to take this one.
Bet Mariners -132 at: [text-blocks id="87″ slug="bet-mlb"]
Texas Rangers vs. Houston Astros Betting Tips:
That last one was kind of a long write-up, this one will not be.
Houston is great and Justin Verlander might be the front runner for the Cy Young this year. He has a 1.24 ERA/2.20 FIP on the year and faces a Rangers offense that has a .693 OPS on the year. The Astros are the Astros and they are facing Doug Fister. You know what to do.
Bet Astros -1.5 (-130) at: [text-blocks id="87″ slug="bet-mlb"]
[text-blocks id="110″ slug="middle-ad"]
Minnesota Twins vs. Los Angeles Angels Betting Tips:
Having Mike Trout and Shohei Ohtani sure is great isn't it? The Angels have a top offense against righties on the year with a .758 OPS and that's with some big time disappointments on their roster like Kole Calhoun and Albert Pujols. Very impressive and the power of Trout is real. They face Lance Lynn tonight who has a 5.46 ERA/4.69 FIP on the year and I like them to do some good things again today.
The Twins offense has upside, but they are in for a tough match-up today against Garrett Richards. He has a 3.25 ERA/3.82 FIP on the year with a high strikeout rates. The walks worry me a bit, but the Twins offense is not as powerful as the Angels and I have to go with him today.
Bet Angels -128 at: [text-blocks id="87″ slug="bet-mlb"]
Los Angeles Dodgers vs. Atlanta Braves Betting Tips:
The Dodgers are one of the hottest offenses around right now with an .803 OPS/120 wRC+ over the past two weeks. They've crawled all the way up to seventh in OPS against righties at .741. The return of Justin Turner has been big for them, even as Turner himself hasn't hit well. I like them to hit Brandon McCarthy today who is sitting on a 4.83 ERA/4.22 FIP on the year.
Walker Buehler is a young pitcher who just continues to prove himself. He's been killing it with a 2.74 ERA/2.35 FIP and that number improves quite a bit at home with a 1.84 FIP. The Braves offense is still pretty great, but with Ronald Acuna injured, Nick Markakis coming back to earth and the Dodger Stadium effect on offenses, I really like Buehler today and will be on the Dodgers in the late game.
Bet Dodgers -1.5 (+105) at: [text-blocks id="87″ slug="bet-mlb"]
[text-blocks id="418″ slug="best-sportsbooks"]
Follow @SBTSportBetting