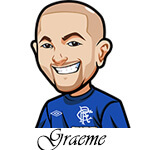 The 2018 US Open takes place over June 14th-17th, 2018 and will be hosted at Shinnecock Hills Golf Club.
This is the 118th US Open and Shinnecock Hills hosted it previously back in 2004 when Retief Goosen won it. Phil Mickelson was runner up there.
This will be the 5th time the US Open is hosted here. Previously it was 2004, 1995, 1986 and 1896. For the record when I do betting tips I will NOT be factoring in the 1896 results at all.
US Open 2018 Betting Tips will be up on Tuesday, June 12th. I'm doing all my research for now on it.
In 2016 I was able to correctly predict the winner of the tournament which was Dustin Johnson. Here's the betting slip for that: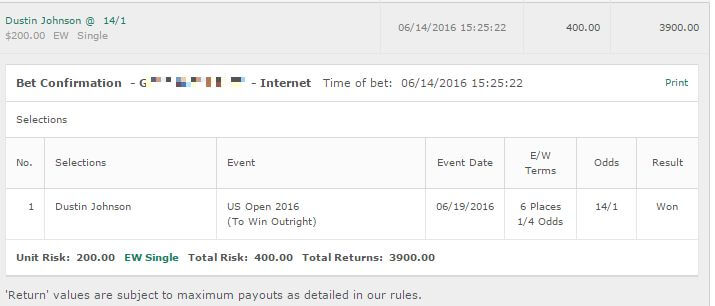 In 2015 I was also able to predict Jordan Spieth winning. Betting slip for that:

I wasn't able to go for the trifecta last year unfortunately. It got off to a great start when my pick of Rickie Fowler saw him as the lone leader at the end of the first round. My risky pick of Paul Casey also looked great as he was 2nd place there, and was actually leading at the end of the second round.
Unfortunately both couldn't finish and I just had to settle for a cash with Rickie. Screenshot of that betting slip: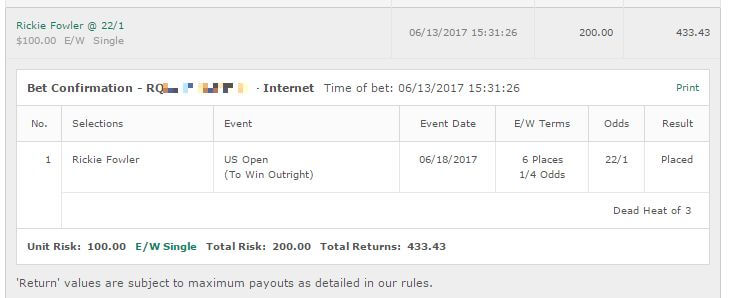 US Open 2018 Betting Odds:
Rory McIlroy: 11/1
Dustin Johnson: 11/1
Justin Thomas: 14/1
Jordan Spieth: 14/1
Tiger Woods: 16/1
Jason Day: 16/1
Justin Rose: 16/1
Rickie Fowler: 18/1
Brooks Koepka: 18/1
John Rahm: 20/1
Will be interesting seeing how the St. Jude Classic affects things. Arleady seeing Koepka move up in the odds.
To be honest at this time I'm not leaning too much towards anyone. This is the first links golf course ever created in the States and it has a rich hitsory. There was big renovations in 2012 which have changed things around.
The weather will be a factor and I'll be waiting till Tuesday to see how the winds are. I feel that driving power won't be as important here and theoretically it will be a very challenging course where the best golfers shine.
Anyway I'll be back on Tuesday with the US Open 2018 Betting Tips.