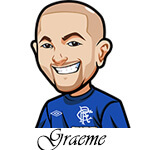 Follow @SBTSportBetting
Sorry for a couple of days without tips there.
Think I mentioned it earlier in the year but I've been getting work done on a new tattoo sleeve. They're long appointments – 8-10 hours at a time – and so it takes up my whole day and messes me up sleep wise etc ha. So it affects my working hours a fair bit.
Monday for example I had an appointment at 1pm and was there till 11pm. Didn't have time in the morning to do it and then I came home and was up for a few hours drinking beer and eating pizza. That messed up my Tuesday – I need a strict sleep schedule and if I stray from that it messes up my whole day.
That actually fell into Wednesday too. I usually get up at 5am-6am but ended up I needed to catch up on sleep I guess as I turned off my alarm and went right back to sleep and didn't wake up till 9am. Which may not seem late but for me it's a catastrophe ha and totally throws off my day.
The good news is that I only have one more appointment – next Tuesday – then I am done. Looking forward to it being over with I've got to say. I went 3 weeks without an appointment and it was so nice getting into a regular routine without being thrown off.
Quite the week of Champions League games. Ronaldo doing the business for Juventus is the type of thing I just love about football. Nice to see Liverpool do it and good to see Barcelona in there too.
Let's get on with the Europa League Tips for March 14th, 2019. Not feeling super confident so two small bets:
Dynamo Kiev vs Chelsea Betting Tips:
I've got to think going into this one up 3-0, Chelsea will want to wrap this one up quickly. Yeah they are up by 3 goals but one away goal would completely kill off this tie.
Chelsea aren't the greatest for scoring in the first half in the EPL it has to be said. 22 of their 50 goals have been scored in the first half only.
However Dynamo Kiev I've got to think will play open football early on and that will allow Chelsea to score.
Basically it's one of those things where I think the true odds should be about 1.80 so I'll take what I see as value.
(Odds on this page are correct as of 2019/03/13 6:48:20 PM EST but are subject to change)
FC Krasnodar vs Valencia Betting Tips:
Valencia take a 2-1 lead into this one. However that doesn't mean they're safe and they will have to do a professional job.
They're a better team than Krasnodar who have been struggling domestically at the moment with three draws in a row. Valencia are unbeaten for awhile and just got back on their winning ways with two solid victories.
They've had issues in defence so I don't think they'll want to sit back and protect their lead in this one.
I'll take Valencia to win.
(Odds on this page are correct as of 2019/03/13 6:48:20 PM EST but are subject to change)

Follow @SBTSportBetting