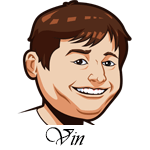 Follow @SBTSportBetting
The NCAA Tournament resumes today with some pretty good match-ups. The first two rounds were filled with upsets including the biggest upset in tourney history as the first ever #16 seed won a game. UMBC beat Virginia by 20 to make history. There were some big winning bets from that one, but we didn't have one of them. Why? Because we're not dumb! 135-0 is pretty rock solid and not a smart betting situation. The tournament is crazy, but it's never been that crazy.
That said, there are some great match-ups today and some good chances for winning some plays. The Final Four seems more in question than in past seasons so the next few days should be exciting. Your bracket may be busted, but we can still make some money off of this thing.
Notable Upcoming Bets:
March Madness Betting Tips:
West Virginia has an absolutely blistering offense and they have been playing really well in the tournament thus far. I heard a stat that they have had the lead at the half in the last fourteen games and that is what we are targeting today. Their offense is intense and can take some time to get used to. While we can see Villanova winning this game, West Virginia +3 in the first half is a nice play. We think they'll come out hot and keep this one close in the first half.
Loyola-Chicago has been one of the most interesting teams in the tournament and they are playing one of the other most interesting teams in the tournament in Nevada. These are two teams that in retrospect were probably seeded too low, doing battle for a spot in the great Eight. The difference between these two is the defense. I really like the defense of Loyola-Chicago and I think it will keep this one close. This definitely feels like a game that might come down to the last shot and if that's the case, I'm taking Loyola-Chicago +1.5.
NHL Betting Tips:
The Flyers and Rangers have seemingly abandoned defense in their race to the playoffs and have instead decided that they'd rather just score a bunch of goals. It might not be championship hockey, but it is certainly fun to watch and especially juicy to bet on. These two teams have been going over more often than late and we like them to do that here. Over 6 goals is a strong play as I really like the Rangers production on the road of late.
Do the Hurricanes want to make the playoffs? They aren't quite eliminated, but they aren't quite playing up to expectations either. The Coyotes on the other hand have been playing some great hockey of late. They are out of the playoffs and seemingly enjoying their role as spoiler. I think they'll play spoiler here tonight. They've been playing well lately and I think there is a great value in this one. The Coyotes +170 is worth a bet on the road tonight.
Follow @SBTSportBetting