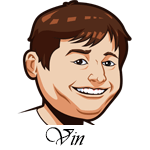 Follow @SBTSportBetting
The 2019 MLB season opens up today with all of the teams in action. You can treat baseball like March Madness and watch it from the early afternoon until the late hours of the day. That's most likely what I'll be doing for tonight and I am very excited about it.
Of course, we also have the Sweet Sixteen getting underway with a some big time match-ups. As I mentioned earlier in the week, there are only two teams in the Sweet Sixteen that fall outside of the top-four seeds. Oregon is your Cinderella team right now as they were a #12 seed and play against #1 Virginia tonight.
The NBA and NHL are also in action tonight, but I figured we'd take a day off and focus on baseball and college basketball for this one. That's where 90% of the world's eyes are going to be tonight anyway.
Just a quick note that I am also writing MLB tips every single day of the season over at BetMLB.org. Last year saw the debut of my Bet MLB System that had a tremendous finish to the season. We're also giving away a copy of Out of the Park Baseball 2020, a computer strategy game, that is tons of fun. Check us out and enter the giveaway before it ends later today.
Notable Upcoming Bets:
MLB Betting Tips:
I posted more tips on BetMLB.org, but these are some games that I liked that I didn't post there.
Baltimore Orioles at New York Yankees: This is the most lopsided game of the day and to even bet the Yankees laying -1.5 would cost you -180. That's crazy, but it just shows how lopsided this match-up is. The Yankees offense is extremely dangerous and they face Andrew Cashner today who finished last season with a 5.29 ERA and under six strikeouts per nine. That's terrible and the Yankees are going to go nuts on him.
I really like the over in this game as I could see the Yanks doing it themselves. Bet Yankees/Orioles Over 8.5 Runs.
Houston Astros at Tampa Bay Rays: I know Snell won the Cy Young last year, but I am just not buying him against the Astros today. Houston managed to improve their roster from last year and there are no easy outs. Even if Snell pitches well, he won't be long for the game and the Astros feast on bullpens. Good value here.
College Basketball Betting Tips:
Florida State vs. Gonzaga: Gonzaga has been cruising through this tournament and I expect them to continue that here. I was honestly surprised not to see this game's line in double digits. FSU beat Murray State to get here which I found a rather unimpressive team with one great player. This is a whole different type of match-up for them and I don't see it ending well.
Oregon vs. Virginia: I am a sucker for a Cinderella story and I love Oregon getting the points here. Virignia had a terrible first half in the first round of this tournament and it was only a year ago this team was upset in round one. They didn't cover in the first and barely covered in the second. This Oregon team is playing with a lot of heart right now and I think they'll keep it close.
Follow @SBTSportBetting