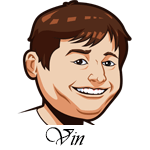 Follow @SBTSportBetting


[Get Exclusive Tips on our Patreon, Ad-Free
]
A 1-0 record so far.
Opening Day is here! This is going to be a great start to the season with some fun match-ups. I have tweaked my system the best that I can to account for the lack of data. For those of you interested in such things the stats I am using are:
2018 Starting Pitcher FIP
2019 Projected Team Bullpen FIP (Fangraphs)
2019 Projected OPS (Fangraphs)
2019 Projected Runs Scored per game (Fangraphs)
2019 Projected Runs Allowed per game (Fangraphs)
The league average team runs per game of 4.45 in 2018
Park factors 2016-2018 (ESPN)
I'm feeling pretty confident about it thus far as a lot of the game totals and betting lines were right on with my systems projections. It's very generous to someone like Jacob deGrom and very mean to someone like Julio Teheran, but if you look at their stats for 2018 they deserve what they get.
Before we get to the tips, I just want to note again that we are running a giveaway for a free copy of Out of the Park Baseball 2020. This is the best baseball simulation game you can play and it's an easy Steam download on Windows/Mac. The drawing is today, but there is still time to enter.
Bet MLB System – OOTP 20 Giveaway

There are a ton of games that I like tonight, but I decided to settle on these three.
San Francisco Giants vs. San Diego Padres Betting Tips:
The park factor is keeping this total low, but this is one of the weaker pitching match-ups of the day. No shade meant to the starters, but Opening Day is when the elite come out and I don't think either of these guys are that.
Madison Bumgarner gets the ball for the Giants and he's been steadily declining over the past couple seasons. He did have that nasty injury he came back from last year, but his strikeouts have been going down for two years and his walks were way up last year. Considering everything that is happening in baseball with the rising strikeouts, that's not a good sign. The Padres offense made the big addition of Manny Machado and I am really expecting them to have a solid offense this year. Will Myers and Eric Hosmer are due for bounce back seasons and there are some fun young players here.
San Diego sends Eric Lauer to the mound and he's alright. Just alright. He'll probably go five and give up three runs.
This just seems like a good over, especially at 7.5 which is where I've been seeing it at. As I said in the opening, the average team runs per game was 4.45 last season. These pitchers are pretty average.
Bet Padres/Giants Over 7.5 Runs
Colorado Rockies vs. Florida Marlins Betting Tips:
This Marlins team is so, so bad. Jose Urena ended up having a solid season last year, but he had a rough Opening Day and first handful of starts last year and I expect the same here.
Colorado was a playoff team last year and they should be again. They have a strong offense and Kyle Freeland is getting sleeper Cy Young candidate buzz and he should get his case of to a nice start with this sad offense on the other side.
This line is just too low.
Bet Rockies -140
Chicago Cubs vs. Texas Rangers Betting Tips:
Mike Minor is the Rangers Opening Day starter and the stats say he had a better season than Jon Lester, the Cubs Opening Day starter. At a glance you wouldn't think that, but here we are.
Of course, neither one of them are scaring me away from this one. This projects in the Bet MLB System as the highest scoring game of the day. The Rangers bullpen is a big part of that and it really seems like the Cubs will be able to get to them today. Kris Bryant is healthy and Anthony Rizzo is consistent as always.
The total is set at 9.5, but I'm staying away from that. The wind is going to be blowing in and it is early to go that big. I am going with the Cubs here because they are just an outstanding value.
Bet Cubs -120
Follow @SBTSportBetting