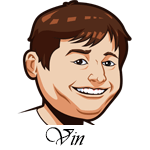 Follow @SBTSportBetting
A 1-0, 1-1 record last night.
I picked the over on the Blue Jays/Tigers game yesterday, but a big part of that was because Aaron Sanchez was starting. Well, I got some bad information somewhere along the line and he was not starting. He's starting today. I always write my tips based on that day's starters so if the starters I am writing about aren't actually starting, stay away.
I'll take a loss on this one in the record books because I never clearly stated that, but in the future do not bet a tip if the starters mentioned aren't starting. I'm adding a disclaimer below in case this happens again, but I'm also going to start getting my starting pitcher info from multiple sources.
We also took the Red Sox over the Mariners and, boy, did we get lucky here. The Mariners got an early 6-1 lead as their offense continues to impress. Their bullpen did not as the Red Sox stormed back in the eighth and might have gotten the lead then if not for a weird double play. Didn't matter as Mitch Moreland hit a three-run bomb to grab the lead and the bullpen held on.
A lot of early games today and I am still adjusting my schedule for these tips so I'll be out on those. There are still a few games that I am liking today, let's check them out.
Toronto Blue Jays vs. Detroit Tigers Betting Tips:
Let's try this one again.
The Jays send Aaron Sanchez to the mound who had a disastrous 2018 with a 4.89 ERA/4.74 FIP. The walks were a big problem for him at almost 5 per nine. He's had a lot of injuries issues involving blisters over the past few years. He's healthy coming in here, but those issues have caused him to change his pitch mix which did not work out for him last year. I'm taking a believe it when I see it approach with him and expect an early exit.
While he'll go against Spencer Turnbull who is definitely a real pitcher. Not much of sample size on him as he's only made three career starts. He has decent stuff and walks look to be a problem for him. I'm not expecting much out of him today and the Jays offense did their job yesterday. Let's try this over again.
Bet Tigers/Jays Over 8.5 Runs
Houston Astros vs. Tampa Bay Rays Betting Tips:
Last season I had a rule of whenever I needed a win, I'd go with the Astros. That paid off pretty well as they were the best team in the league during the regular season. I think that's going to be the case this year again and while I like the Rays a lot, they are getting too much respect from the books here.
That said, if Tyler Glasnow does what he's capable of doing this could be close. He has the big time stuff, but has never really put it together and a lot of people think this will be the year. I don't see that happening today though. He's really struggled with walks and the Astros are a deep lineup with no easy outs. Glasnow posted a 4.27 ERA/4.00 FIP on the season last year.
While the Astros will send Collin McHugh to the mound. He worked out of the bullpen last year and had huge strikeout stuff along the way. The transition back to starter won't be easy, but it's hard not to see good things from someone who posted a 1.99 ERA/2.72 FIP in the pen last year with 11+ K/9. I expect him to be dominant for a few innings before leaving it to the Astros also dominant bullpen.
Bet Astros -114
Follow @SBTSportBetting