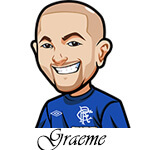 Follow @SBTSportBetting
(Picture credit: 90min)
This weekend I thought I'd do some soccer tips.
I do this on a daily basis over at my website BetSoccer.ca and if you don't follow me there, please do!
I grew up in Scotland so football was my life growing up. I'm always paying attention to the different leagues and I can throw on the most random game in the most random country and get right into it.
So with that said today we're going to cover weekend games in England and Italy.
EPL Bets:
In Fulham vs Man City I've gone with Both Teams to Score. Yeah City are running the clean sheets at the moment, however Fulham seem to have no issues getting a goal against the top defences. They did it recently and even scored against Liverpool, who have the best defence in the league. Also will be surprised if City aren't able to get on the scoresheet here.
I'm also taking West Ham over Everton. This is strongly based on the differences in West Hams performances at home, and Evertons preformances away. Just a big difference there and I think that will factor into the result.
Also a bet on Brighton to win. They're hosting Southampton and while Soton are coming in off that big win over Tottenham I think Brighton are doing the right thing when it comes to performances. Solid little wins over the relegation battled teams like Crystal Palace are nice to see.
English Championship Bets:
I'm going with Norwich to beat Middlesbrough. Norwich are just playing phenomenal at the moment and go into every game with a complete level of confidence. It's been beautiful to watch honestly. Middlesbrough – this is an important game for them however they have a big problem at the moment and that's conceding goals. They got here by not conceding goals and that's went astray at the moment. Norwich should punish them.
I'm also going with Derby to beat Rotherham. Derby have a lot to play for with the playoffs on the line. They aren't coming in on the best of form or anything but I think this is one of those games they'll pencil in as "turning it around". Rotherham do still have a lot to play for but I think this is one of those games where Derby tell everyone hey – we belong in the English Premier League.
Serie A Bets:
I'm on SPAL to beat Frosinone. Big price but SPAL are coming off that big win over Roma and that shows they are taking the battle seriously. Frosinone are just crap at the moment and they have nothing to play for. They've taken a lot of mental hits like that game against Roma. SPAL don't usually perform too well on the road but I like them to do it here.
I'm also on Roma to beat Napoli. Yeah Roma have issues and Napoli are solid but I think this is just big value and that as long as Olsen doesn't muck up again, Roma can be competitive in this one.
Finally Torino and Fiorentina to draw. That's what Torinto do on the road.
Follow @SBTSportBetting