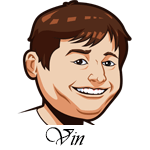 Follow @SBTSportBetting
I decided to take yesterday off after taking one look at the schedule with only four games and no exciting match-ups. This league always does a good job of staying the heck away from March Madness.
That gave me some time to put in some work on my MLB System which is now good to go for Opening Day tomorrow. You can find those tips here.
I also took some time over the weekend to update our year-to-date record for NBA and I'm pretty happy with it. For the season, we have a 52-43 record on NBA bets.
Best Odds for NBA:
Miami Heat at Indiana Pacers Betting Tips:
The Heat finally stopped the bleeding on their long losing streak. They also just got Goran Dragic back from injury and that is not a coincidence. Injuries and schedule are the two big things that I look at with tips and an injury to your facilitator can really mess up a team. We've seen that with the Heat, but now that he is back I think they start playing well again and make their push for the playoffs.
Indiana hasn't played very well at home this year with an 8-12 record straight up and 6-14 against the spread. They are 7-10 ATS as an underdog as well. This team just plays to their level and not much beyond that.

Portland Trail Blazers at Detroit Pistons Betting Tips:
The Blazers are a big favorite here and for good reason as Detroit has seemingly waived the white flag on the season.
Portland added Norm Powell at the trade deadline and that is one of the most interesting adds of the deadline. Powell, CJ McCollum, and Damian Lillard are three players who can just provide instant offense at any time and the team is now built to handle an off night from one of their stars. They will still struggle against size, but that isn't what you are getting with Detroit here.
Portland has been putting up big points all season and I think this team total is set a bit low. This team puts up 120 no problem and I can see them doing it again here.
Milwaukee Bucks at Los Angeles Lakers Betting Tips:
The Bucks are driving me crazy right now with three straight losses. Whenever I think this team is getting on track, they have a stretch like this. They get the bonus of facing the Lakers without Davis and LeBron tonight so that losing streak should end.
I think this line is too big though and I don't trust the Bucks bench enough to go with the over here so we're going to try something a little bit different: Bucks first quarter. Milwaukee has won the first quarter handily in four of their past five and this match-up is perfect for them to do it again.
Best Sportsbook To Bet NBA:
Register an Account.
All betting odds and props will now be viewable under the event listing.
You can deposit to BetOnline via over 20 different options such as credit card.
Chicago Bulls at Phoenix Suns Betting Tips:
The Suns are on their third game in four nights, sixth game in eight nights, and second half of a back-to-back here. I know everyone's schedule is brutal right now, but I think this is especially so.
Chicago is yet to win with Nikola Vucevic and tonight could be their best opportunity to do so. They are still figuring things out, but there is a lot of talent here and they are better than their recent record shows. The Bulls have a very good 11-4 record against the spread as a road underdog.
The Suns are very good and I can see them toughing out a win here, but I think this spread is simply too high.

Follow @SBTSportBetting