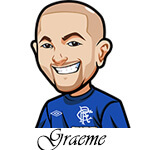 Follow @SBTSportBetting
Was just browsing the games taking place on Sunday, and thinking about how one league I really haven't focused on this year betting tips wise is the La Liga in Spain.
Not really sure why. It's a good league and I have games on in the background quite often – but I've just skipped it from a betting tips perspective.
Let's remedy that shall we?
So first a brief catchup. Barcelona have won the league. Atletico Madrid are most likely second although Real Madrid are chasing them. That 4th spot is being contested by Getafae, Valencia and Sevilla. Athletico Bilboa are a long shot to sneak into 5th/6th. They need to win both their final games while hoping Valencia or Sevilla drop points.
Down at the bottom, one relegation spot is left to be claimed and there's 5 teams that can still be relegated.
Should be a couple of tight matchdays ahead.
Atletico Madrid vs Sevilla Betting Tips:
A hell of a game here. Like I said Atletico Madrid want to hold onto that second place in the league while Sevilla are fighting to keep a spot in Europe.
To me it's the home/road split that has me going for Atletico Madrid to take this one here. They are just an exceptional team at home with 15 wins out of 18 games. Sevilla meanwhile struggle quite a bit away and have only won 5 in 18, with 4 draws.
For a team who are fighting they are coming in off the back of some brutal performances. 3 losses in their last 4 games to Leganes, Girona and Getafe.
Stefan Savic is confirmed out for Atletico. Nikola Kalinic is doubtful.
I just think with their home form alone – Atletico Madrid win this one, and cement that second place.
(Odds on this page are correct as of 2019/05/11 7:35:41 AM EST but are subject to change)
Ray Vallecano vs Real Valladolid Betting Tips:
Rayo Vallecano are relegated and there's nothing they can do. They actually did their best with some solid performances at home including that insane win over Real Madrid – but it wasn't enough.
Real Valladolid on the other hand are one point above Girona and are battling hard.
Problem is Valladolid – who are pretty heavy favourites here – can't seem to get it going away. Even their wins at home have been tight 1-0 games.
Rayo Vallecano have nothing to play for but be spoiler. And I think they will here. Say what you will about them but they are a solid team at home with some impressive wins lately and they'll want to put up a good performance in their last home game of the season.
However I don't think Real Valladolid will be a pushover. I think this will be a close game and that as badly as they want the three points….they'll have to settle for one. Just one of those games where I feel the bookies have slanted the odds due to the "must win" reality Valladolid find themselves in and it's not the true odds, thus there's value.
(Odds on this page are correct as of 2019/05/11 7:35:41 AM EST but are subject to change)
Follow @SBTSportBetting