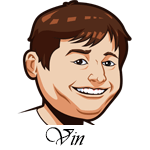 Follow @SBTSportBetting
A 2-1 record last night. 48-33 on the season.
Our one loss was the over on the Braves/Diamodbacks game as this one went way under. Zack Greinke was great here and I should probably know better than to go against him. His bullpen failed him as the Braves won 2-1.
The Twins were our runline play last night and they covered it easily. Jake Odorizzi was really on one here as he at one point set down 20 straight Tigers batters and only allowed one-hit on the day. He's only allowed five extra-base hits all season and hasn't allowed a run since April 22. Odorizzi, who knew?
We also too the Reds moneyline and we probably should've just done the runline here too as they won 7-0. Luis Castillo had 11-strikeouts in just six innings.
Three picks today with one 4:05 ET game. I'll be off tomorrow for Mother's Day. Not because I'm doing anything, but because most of my readers probably are.
Los Angeles Angels vs. Batlimore Orioles Betting Tips:
I would normally steer as clear away from Matt Harvey as possible, but looking at his gamelog he has faced nothing but killer offenses to start the season. His two starts against lesser offense, the Royals and Athletics, saw pretty good results and I don't have a lot of fear backing him against the Orioles today. Baltimore has hit for a .688 OPS on the season with low walks and low strikeouts. A pitch-to-contact pitcher and team, this plays to his strength. There is risk here as his results have not been pretty, but I also have a lot more faith in the Angels bullpen.
The Orioles are bad. Dylan Bundy has been killed by homeruns and has a 5.30 ERA/5.78 FIP on the year. The Angels have a team .799 OPS with a 117 wRC+ on the season and I think they hurt him. It doesn't hurt that the bullpen backing him up is also bad.
Bet Angels -135
Philadelphia Phillies vs. Kansas City Royals Betting Tips:
This pitchers have pretty similar stats, but I do not trust Brad Keller. He has a 3.99 ERA/4.45 FIP on the season as he's ridden a low BABIP. His walk numbers are horrible and I think the Phillies offense could do some things to him here. They have a 101 wRC+ on the year, but one of the highest walk percentages in the league. If they can be patient, they can score off this man.
The Phillies send Zach Eflin who is mostly meh. He has a similar 3.00 ERA/4.31 FIP, but he doesn't walk a ton of batters. The Royals offense is actually pretty solid against right handers, but I don't trust Keller and I don't trust the Royals bullpen much behind him, especially if he's out early.
Bet Phillies -133
Atlanta Braves vs. Arizona Diamondbacks Betting Tips:
This one is pretty simple for me. I like this Braves offense and I think they will continue to grow stronger as the season goes on. They face Merill Kelly today who has a 4.85 ERA/5.25 FIP on the season with a high walk and homerun percentage. My kind of pitcher to pick on.
He goes against Kevin Gausman who has a 5.00 ERA/4.04, but looks like he's due for some regression. He has huge strikeout numbers right now and the Diamondbacks are prone to strikeouts. They also have just a 93 wRC+ against righties with a .734 OPS.
With a moneyline this small the odds are tight, but I think there is real value in the Braves today.
Bet Braves -112
Follow @SBTSportBetting