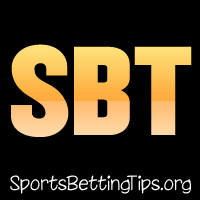 Follow @SBTSportBetting


[Get Exclusive Tips on our Patreon, Ad-Free
]
The Golden State Warriors did what they always do and eliminated the Houston Rockets from the playoffs. This was the Rockets absolute best chance to make the Finals and they lost on their home court to a Warriors team without Kevin Durant. Crazy. Stephen Curry and Klay Thompson really had an amazing game to remind everyone that they were the ones who started this whole thing. When those two are playing well at the same time, this team is unbeatable. Much props to Draymond Green as well who was a defensive nightmare in this series and really proved that he is still one of the best at it when it matters. The Warriors will meet the winner of today's Blazers and Nuggets game on Tuesday at home. While the winner of the other series will face the Bucks on Wednesday in Milwaukee.
Two game sevens today with no clear winner in either of them. You really can't ask for much more than that. Let's get into the action and pick some winners
Portland Trail Blazers vs. Denver Nuggets Betting Tips:
Graeme: This is a big game 7. Damian Lillard had to step up for the Blazers in the last game and he did so as they ran out 119-108 winners. He'll need to step up again in this one.
This is a massive game with the winner going on to face the Golden State Warriors. While Kevin Durant being out didn't affect things against the Rockets – as I predicted – he might miss a game or two in the next round and that could hurt them in the beginning.
While Lillard was excellent in the last game I felt the Nuggets second unit really didn't step up.
I like everyone to step up for them in this pivotal game.
https://www.Bovada.lvNuggets -5.5
Vin: The thing I am looking for in this game is the play of Jamal Murray. He's sort of coasted in this series when he's been allowed to play on offense only. In game six, the Blazers made him work more on defense and that cost him at both ends of the floor. Denver is a good defensive team and he is definitely the weak link in most lineups, they need to attack him if they want to have a chance in this one. The team also got some great minutes out of Zach Collins which they are going to need here as well.
Denver has the home court here, which is huge, but I think Portland has some moves they can make that can make this game tight. The two guards really played well in the last game and Dame has ice in his veins, he is not afraid of a game seven on the road. I think this game will be very close so I'm taking the points, but the Blazers could win outright.
https://www.Bovada.lvBet Blazers +5.5
https://www.Bovada.lv
Philadelphia 76ers vs. Toronto Raptors Betting Tips:
Graeme: Classic bloody Raptors.
Two days after a sensational team performance where everyone steps it up, they phone it in and leave Kawhi Leonard to do all the work by himself again.
As someone living in Canada who finds himself rooting for the Raptors from time to time – man, I hate them.
Anyway, Kawhi Leonard has proven he can carry this team by himself at times. Everyone else needs to step up in this one too and I think they will. Raptors know if they play to the best of their abilities they will win this one – simple as that.
In saying that, I don't think we'll have as big a performance from them as per usual and that Philly can at least cover.
https://www.Bovada.lv76ers +6
Vince:: You know what I'm excited for? This series to be over so the Bucks can stomp on whoever wins this one. These teams are absolutely maddening. Players show up for some games and not for others like this is the first round or something. I want to say that the Raps can win, but I don't trust anyone but Kawhi. I want to say the 76ers can upset, but I don't trust anyone but Jimmy Butler.
These teams drive me nuts. One thing I am seeing though is that the over has been hit in each of the last two games and the total is set at it's lowest of the series. I don't see these teams playing a low scoring game here as they've both realized that's not what has been working for them. They want to play faster and get the scoring high. 209 is nothing.
https://www.Bovada.lv76ers/Raptors Over 209
Follow @SBTSportBetting