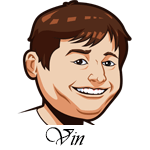 Follow @SBTSportBetting
A 2-1 record last night. Now let's finish this weekend on a winning note as there is a lot of good games for us today.
Last night, we had the Braves and Pirates both give us a bit of nail biting in their games, but both manage to pull out big wins in the end. It was a close one, but I'll take it.
The lone let down was the Mariners losing to the Tigers in game one of the doubleheader. The offense really showed up for the Mariners in the second game, but not the first. A shame as I really think they could've swept this thing.
Like I said, a lot of games to get into today so let's get right into it.
[text-blocks id="137″ slug="email"]
Cleveland Indians vs. Kansas City Royals Betting Tips:
Bet Indians -1.5 at: [text-blocks id="87″ slug="bet-mlb"]
Seattle Mariners vs. Detroit Tigers Betting Tips:
James Paxton's last two games were a 16-strikeout game and a no-hitter. Yeah, I'm taking him against the Tigers today.
31-year old lefty Blaine Hardy makes the spot start today for the Tigers. While he's been a pretty decent reliever over the years, I do not fear him against this Seattle offense. They have pounded lefties all season to the tune of a .778 OPS, 5th in the league. I don't see any hangover potential for Paxton as both of his last two starts have been under 110 pitches. This is a great place to lay the runs as I believe Seattle will roll.
Bet Mariners -1.5 at: [text-blocks id="87″ slug="bet-mlb"]
Atlanta Braves vs. Miami Marlins Betting Tips:
Keep setting these Braves lines low and I'll keep taking them.
The Braves offense is amazing and today faces Jose Urena. He has three starts this year where he went seven innings and only allowed one run. Every other start has seen him allow three or more. He's facing a red hot Braves team with a .771 OPS against righties this year. I'm expecting the latter result.
I'll be honest and say I don't get the whole Sean Newcomb thing. I don't really believe he's as good as his 2.88 ERA/3.07 FIP, but results are results. Throw in the Marlins .713 OPS against lefties this year and I have no problem tipping the Braves once again.
Bet Braves -138 at: [text-blocks id="87″ slug="bet-mlb"]
Colorado Rockies vs. Milwaukee Brewers Betting Tips:
Sometimes, you just have to go against the grain.
Jon Gray has been a much better pitcher at home than on the road throughout this career. This makes sense for most pitchers, but not when they pitch their home games at the most notorious park in all of baseball. He forces a lot of groundballs and I think he can keep the Brewers bats in check. The Brewers are hitting just a .717 OPS against righties this year.
I don't know much about Freddy Peralta who makes the start for the Brewers, but what I see I like. He's never made a major league start before so he'll be new to the Rox. Also, he strikes out a ton. The last two seasons he's struck out over 12 batters per nine and maintained a solid groundball rate. The Rockies are hitting for a .684 OPS against righties this year.
Dare to be different. Take the under.
Bet Brewers/Rockies under 11 at: [text-blocks id="87″ slug="bet-mlb"]
[text-blocks id="110″ slug="middle-ad"]
Follow @SBTSportBetting