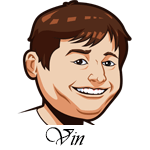 Follow @SBTSportBetting
A 3-0 record. We are now 51-33 on the season which works out to a 60.71% winning percentage for +8.41 units.
That is a very nice start to the season and I couldn't be happier with the results. I'll be starting to use the full system later this week that incorporates the L/R splits with pitchers as well as home/road splits. We saw an uptick in traffic recently as well so people are definitely noticing the results. Let's keep it going.
We have a short slate today, but there are three games that the Bet MLB System likes. Let's get into them.
Baltimore Orioles vs. New York Yankees Betting Tips:
David Hess has been bad, very bad. He has a 5.50 ERA/6.46 FIP on the season and his BABIP and LOB% show that he has actually been lucky. He's allowed 2.62 HR/9 on the season and I think the Yankees are going to hit him very hard today.
The Yankees send Jonathan Loaisiga who has posted a 4.50 ERA/4.83 FIP this season. He's fine, but I feel comfortable going with him today. For one, the Yankees bullpen is one of the very best in all of baseball. Secondly, the Orioles offense has just a .702 OPS and 88 wRC+ on the season. I am willing to lay the runs with the Yanks here as the system loves it.
Bet Yankees -1.5 (-110)
Los Angeles Angels vs. Minnesota Twins Betting Tips:
The Twins remain one of the very best teams in all of baseball which continues to blow my mind. They face Tyler Skaggs here who has posted a 4.70 ERA/4.06 FIP thus far this season. What I really like about the Twins offense here is that they have been one of the very best teams against left handed pitching this season. They have a huge .847 OPS and 124 wRC+ against lefties on the season.
Minnesota will send Jose Berrios who has been the ace that has been promised thus far this season. He has a 2.53 ERA/3.47 FIP on the year and has done a great job of keeping his walks down. The Angels offense has been pretty great against righties this season, but I believe in Berrios and I definitely believe in the Twins offense.
Bet Twins -134
Oakland Athletics vs. Seattle Mariners Betting Tips:
Mike Fiers is coming off a complete game, no-hitter in his last start, but I still don't even remotely trust this guy. He is a low strikeout guy that even with that no-hitter has a 5.48 ERA/4.94 FIP on the season. He can be hit and he can be hit hard for homeruns. The Mariners have dropped off a lot, but this lineup still has a lot of power.
The Mariners send Yusei Kikuchi who has been really solid this year with a 3.54 ERA/3.51 FIP. He's not a big strikeout guy, but he does a good job of inducing groundballs and avoiding walks and homeruns. The Athletics are a good offense against lefties, but they are reliant on homeruns and I think Kikuchi can keep the ball on the ground here.
Bet Mariners -121
Follow @SBTSportBetting