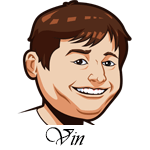 Follow @SBTSportBetting
Tonight we have a big game with the Cleveland Cavaliers down 0-1 in the Eastern Conference Finals to the Boston Celtics. LeBron James says that he's not nervous or worried about his team. I believe him. The last FIVE TIMES a LeBron James led team has been down 0-1 in the Eastern Conference playoffs, they've won the series. That's just crazy and shows LeBron's sheer dominance over the Eastern Conference.
We also have the NHL Playoffs rolling on as the Washington Capitals look to "capital-ize" at home against the Tampa Bay Lightning and take a 3-0 lead in the series. The Capitals beating the Penguins was crazy enough, but them dominating Tampa in this series and possibly heading to the Stanley Cup is even crazier. This team has just had so many letdowns over the years that this is hard to fathom. Tonight is huge for them and their fanbase.
There is a full slate of MLB games as well tonight and a few winners that I like. Let's get into all of today's tips and big winners.
NBA Playoffs Betting Tips:
The Celtics are yet to lose at home in this series, but I have a hard time seeing that streak continuing here. This is just too big of a game for the Cavaliers not to show up in a major way. I am expecting a vintage LeBron James performance and a Cavs win that makes everyone realize why they have been favored in this series all along. The greatest player in the game is just too great for this collection of young dudes. At least for this game. The Cavaliers +1 is the play as I think they'll even the series.
Notable Upcoming Bets:
MLB Betting Tips:
The Phillies offense has really been hitting it's stride of late and I am really liking them against the Orioles today. Andrew Cashner always has blowout potential and the Orioles offense has looked so sad this year, I expect them to make Nick Pivetta look like a star. Philadelphia -114 is a nice play tonight.
Another offense that I always love is the New York Yankees. They face a lefty today in Gio Gonzalez and that means he gets to face Aaron Judge, Gary Sanchez and Giancarlo Stanton. Hate it for you, Gio. He's had a good start to the season, but not faced any offense quite like this one. I expect that to go bad for him. Yankees -126.
NHL Playoffs Betting Tips:
I believe in the Washington Capitals. Maybe all they ever needed was to not be the favorite for once. To have everyone counting them down and no expectations. It certainly seems to have worked thus far as they are just two wins away from the Stanley Cup. I like them to get a win closer here tonight and I expect them to do it in regulation. This is Washington's time and this crowd should be electric. I'm taking Washington +125 in regulation as my play of the day.
Follow @SBTSportBetting