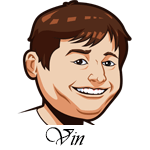 Follow @SBTSportBetting
A 1-2 record last night.
Carlos Carrasco had owned the Tigers over the past couple of years, but he struggled last night and gave up three runs early. The Indians tried to mount a comeback, but the bullpen didn't help as they allowed another three runs and the comeback was not to be.
The Athletics pitching kept the game against the Red Sox a bit closer than I would've liked, but they ended up pulling out the win as an underdog.
Finally, we had Patrick Corbin and the Diamonbacks over the Brewers, but Milwaukee delivered Corbin's worst start of the year and the bullpen didn't do him any favors late.
Some nights the great match-ups don't pay off. That was the case with Corbin and Carrasco. Shake it off.
[text-blocks id="137″ slug="email"]
Baltimore Orioles vs. Philadelphia Phillies Betting Tips:
I really like the way that the Phillies have been swinging the bats lately and I always like hitters against Andrew Cashner. He has a 4.84 ERA/5.74 FIP on the year and is allowing 2 HR/9. Not good. While there is a chance of some storms here, it should be rather humid for this one which is always good hitting weather.
Nick Pivetta is solid enough and his 4.15 ERA/3.24 FIP shows him due for a little bit of regression. The Orioles are 25th in the league against righties with a .693 OPS. That's with a DH in the lineup. Outside of one superstar who probably won't be there much longer in Manny Machado, there is no one here who scares me. I like Philly today.
Bet Philly -114 at: [text-blocks id="87″ slug="bet-mlb"]
Washington Nationals vs. New York Yankees Betting Tips:
Hello, Yankees against a lefty.
The Yankees are "only" top ten against lefties thus far, but that isolated power of .199 is 2nd best in baseball and a big cause of concern for any opposing pitcher. Gio Gonzalez is having a great start to the year, but I don't think anyone believes he's as good as his 2.22 ERA/2.47 FIP. That would improve on last season by 1.5 on FIP and I am just not buying it. This is the hardest offense he's matched up against this season by a mile and I expect that to show.
I think the opposite is true for Masahiro Tanaka. He's taken on some of the best offenses in baseball in the Red Sox, Astros and Angels this year. He knows what he's getting into and knows how to navigate a strong lineup. I like him and the Yankees to grab the win here.
Bet Yankees -126 at: [text-blocks id="87″ slug="bet-mlb"]
Cleveland Indians vs. Detroit Tigers Betting Tips:
The Indians have a .772 OPS against left starters, good for 7th in baseball. Fransisco Liriano has a ridiculously low BABIP that will turn against him and a 3.35 ERA/4.31 FIP/4.93 xFIP. He's going to get hit today.
The Tigers offense has been better than advertised this year, but most of that success has come against lefties. They have a .730 OPS against RHP which is middle of the pack.
Josh Tomlin is the reason for this weird line as he's been hit pretty hard his last few times out. I feel crazy for thinking this, but I think the guy with the 8.06 ERA/9.69 FIP is going to do better today. His last three starts were against the Cubs (4th in OPS against RH), Mariners (11th) and Yankees (2nd). He's probably ecstatic to be facing Detroit who he allowed 0 runs to in his best start of the year back in April. His last 300+ innings in the majors show that he's not this bad and he can't be this bad if he's going to be a starter for a playoff team. I am expecting a bounce back and an Indians win.
Bet Indians -131: [text-blocks id="87″ slug="bet-mlb"]
[text-blocks id="110″ slug="middle-ad"]
Follow @SBTSportBetting