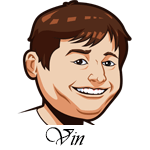 Follow @SBTSportBetting
0-1 last night?
The Indians absolutely blew this game against the Tigers last night. This game was 8-4 after six innings and a 92.9% win expectancy. They did not win. Unbelievable.
The Yankees and Nationals were tied 3-3 before the rain came and this game was suspended until later this month. My sportsbook gave me the refund on this game, I imagine yours did too.
Finally, the Orioles and Phillies delayed for an hour with no rain then delayed for another two hours with a lot of rain before finally calling it. I really think MLB needs some sort of centralized office to handle rain delays because this was ridiculous. You know they took in parking money, concession money and all that when this game was unlikely to play. They play again today, but I won't be tipping it as the weather should be off/on with the rain. I expect a stoppage and that can wreak havoc on pitching.
[text-blocks id="137″ slug="email"]
Chicago White Sox vs. Pittsburgh Pirates Betting Tips:
The Pirates have been killing it against lefties this year. They are currently carrying an .856 OPS against lefties which is the best in baseball. That is probably not sustainable, but this match-up today will make it seem like it is. They face Hector Santiago who is carrying a 5.60 ERA/5.68 FIP/5.93 xFIP on the year. He is very hittable and I like the Pirates to feast on him today.
Jameson Taillon has had some ups and downs this year, but he is probably the ace of this Pirates staff. He's had two really bad starts where he allowed seven and five runs, but outside of those he's only allowed three runs once and two or less in every other. I'd like to see his strikeouts a bit higher, but the White Sox are an aggressive team and I think he can guide them to the defense in this one. I am laying the runs.
Bet Pirates -1.5 (+100) at: [text-blocks id="87″ slug="bet-mlb"]
Seattle Mariners vs. Texas Rangers Betting Tips:
Bartolo Colon has fooled a lot of teams this year with his old man stuff, but the Mariners aren't one of them. They scored four runs off him in their last start and I expect their bats to find him again today. The Robinson Cano news is sad and rough for this team's playoff chances, but they are still an elite offense without him. I personally believe his story as he's probably a Hall of Famer if he retires today so doing something like this would only jeopardize that. He's smarter than that. Anyways, I like the Mariners to hit this guy today.
The Mariners send Christian Bergman to the mound who holds a career 5.58 ERA/4.99 FIP for his career. He is the definition of a quad-A spot starter. I don't love this Rangers offense, but I expect them to do a little something. We're going over on the starters here, first five.
Bet Rangers/Mariners Over 4.5 First Five Innings: [text-blocks id="87″ slug="bet-mlb"]
Atlanta Braves vs. Chicago Cubs Betting Tips:
OPS vs. RH Pitching:
Braves .761 (4th)
Cubs .758 (6th)
Starting Pitchers:
Braves 5.58 ERA/5.04 FIP/3.92 xFIP (Brandon McCarthy)
Cubs 3.35 ERA/4.19 FIP/5.02 xFIP (Tyler Chatwood)
Yeah, I like the over in the first five here.
Bet Cubs/Braves Over 5.5 First Five Innings: [text-blocks id="87″ slug="bet-mlb"]
[text-blocks id="110″ slug="middle-ad"]
Follow @SBTSportBetting