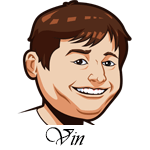 Follow @SBTSportBetting
A 3-0 record last night and we are absolutely on fire right now.
Our record is at 21-8 in the month of May and we are up to 58-34 on the season. That's a 63% winning percentage and +12.8 units. Pretty good. Reminder: this website is free. Just saying.
We couldn't have gotten there last night with a little bit of luck. Yu Darvish had his best start of the season as the Reds did not draw a walk off of him. He left with a 3-2 lead, but the bullpen was not able to hold it. Every time the Cubs got the lead, the Reds answered with a run. This one took extras, something I consider to be pure luck, and the Reds finished it off. Good win.
The Braves were our pick because of Mike Soroka and he lived up to the hype with his start. He went seven innings of shutout ball with only three hits allowed. The Braves ended up winning 4-0.
Finally, the Rangers and Royals game went exactly as I figured it would. Jorge Lopez gave up five runs and two homeruns. Mike Minor only allowed one run over five innings and the bullpen did the rest for the easy win.
A good first night for the full system. After a couple of days of the Bet MLB System liking a lot of games, there is only one game that it is liking today. Let's get into that one.
Minnesota Twins vs. Seattle Mariners Betting Tips:
Erik Swanson doesn't have much of a track record, but what we've seen from him hasn't been very good. He has a 6.38 ERA/5.23 FIP with low strikeouts and homeruns have been a problem for him. He draws a very tough match-up today against the Minnesota Twins who have been one of the best offenses against right handed pitchers this year. The Twins have an .817 OPS with a 114 wRC+ against righties on the season.
The Twins send Michael Pineda who has a weird line with a 5.28 ERA/3.76 FIP. He has an awful BABIP at .390 that will come down and his HR rate is a bit high. The second thing worries me a bit, but the strong Twins bullpen (compared to the awful Mariners bullpen) eased my worries. The Marines offense has definitely cooled down of late and I like the Twins to grab the road win here.
Bet Twins -116
Follow @SBTSportBetting