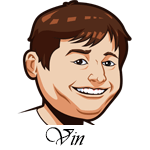 Follow @SBTSportBetting
It seems like every day is a big sports day lately. Last night we saw the Houston Rockets even the series at a game apiece with the Golden State Warriors. The Rockets got 49 combined from Eric Gordon and PJ Tucker while the Warriors got 24 combined from Klay Thompson and Stephen Curry. If that happens, the Rockets better win. This one wasn't very close and this looks like it might be a series.
We also saw the Las Vegas Golden Knights beat the Winnipeg Jets to go up 2-1 in the Western Conference Finals. The fact that this team that did not exist last year is just two wins away from the Finals and six wins away from winning the Stanley Cup is truly amazing. Yeah, the draft rules were in their favor and all that, but this is still uncharted territory. An amazing achievement that really should be getting more play.
There is no NBA tonight, but the NHL Playoffs move on with the Capitals and Lightning continuing their series. Washington has a 2-1 lead in the series as the road team has won every game. Will that continue tonight? We'll find out.
NHL Playoffs Betting Tips:
The winning team has scored at least four goals in the first three games of this series. The tight, defensive based playoff hockey we've come to expect over the years hasn't been present in this series between two of the best offenses in the game. That's good and fun, hockey should feature multiple styles of play and seeing these two go at it is a treat. I think that trend is going to continue tonight and we'll once again see an over 6 goals. These offenses are just too good and too dangerous to be shutdown. I like a high scoring game as this thing gets serious.
Notable Upcoming Bets:
MLB Betting Tips:
Get on the Giants -140 before this line gets any higher. The Rockies have been terrible against right handed pitchers this season and Jeff Samardzija is starting to heat up. He always does well at home and I think Chad Bettis is hittable for the Giants. San Fran has also hit the ball extremely
well of late and I expect the offense to show up here.
PGA Tour Betting Tips:
The AT&T Byron Nelson Classic starts today and this event is taking place at Trinity Forest, a course that Jordan Spieth is intimately familiar with. This is basically his home course and that, on top of him being the top golfer in the field, made him a huge favorite in this tournament. Such a big favorite that there is almost no value in betting on him.
That said, the first round 3 Balls is a great bet for him. He's paired with Graeme McDowell and Jimmy Walker in this one, but despite being a huge favorite he is only -110 to win the pairing. That is great odds for the would be winner of this thing. Bet Jordan Spieth -1st Round 3 Balls and thank me later.
Follow @SBTSportBetting