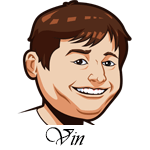 Follow @SBTSportBetting


[Get Exclusive Tips on our Patreon, Ad-Free
]
1-1 last night. Now 60-35 on the season.
We took the Mets last night based on Jacob deGrom having a great start and he absolutely did not do that. He threw five innings and gave up six runs on nine hits. Really uncharacteristic start by him made worse when you consider the offense he was facing and the fact that his start previous to this was a 7IP, 1ER performance against the Marlins. Oh, and the Marlins are the worst offense in baseball. This is your reminder that this is baseball and these kind of things happen.
We did get the win with the Astros over the Red Sox. This one turned into a much better pitching match-up than I imagined as Rick Porcello was scoreless through seven innings. As we've seen too many times this year, the Sox tried to put him out there in the eighth with the one run lead and the Astros offense decided it was tired of not scoring. A Jake Marisnick double followed by a George Springer homerun ended his night and took the 1-0 lead away from the Sox for good. Better offense, better bullpen; that's what we bet on here and it paid.
One early and two late games today.
Oakland Athletics vs. Detroit Tigers Betting Tips:
This one is kind of a risky proposition when you just look at the starters. Matthew Boyd has been very good to start the season with big strikeouts and low walks. He has a 3.15 ERA/2.85 FIP on the year and would normally be the exact type of pitcher I like to back in a game like this. So, what has the system spooked? Well, for one the Detroit bullpen is one of the worst in the game. Secondly, the Athletics have a .822 OPS and 119 wRC+ against left handed pitchers. This could be his worst start of the year.
Daniel Mengden is a very average pitcher. None of the stuff we never look for, but he is in luck today. He has a great bullpen behind him and won't be expected to go deep. He also is facing the Tigers who have a .645 OPS and 72 wRC+ against righties. Take the worse pitcher on the better team.
Bet Athletics -116
Houston Astros vs. Boston Red Sox Betting Tips:
This one is kind of a risk for a different reason. Corbin Martin is a rookie pitcher who has made one major league start in his career and he's going for the Astros here, but his first start against the Rangers was very impressive. 5.1 innings pitched, three hits, one walk and nine strikeouts. The strikeout stuff is real as his minor league career shows and I'm willing to take a shot with him against the Red Sox offense that is closer to average than you might think. As with yesterday, the Astros bullpen behind him is great. Also, this team is smart and won't leave him out there too long like Boston did last night to Porcello.
Boston sends Hector Velasquez and his 3.95 ERA/4.46 FIP to the mound. Houston has the very best in baseball hitting numbers against lefties with a .909 OPS (!) and 145 wRC+ (!!). They've won nine straight and draw a good match-up here with a reasonable price.
Bet Astros -113
Minnesota Twins vs. Seattle Mariners Betting Tips:
At first glance, this game looked like a no-go. Then I realized that Wade LeBlanc is making his first start since April. He's a decent pitcher and does good at not getting blown out, but he's also coming off the DL here. That typically means a shorter outing and that means more of the Mariners bullpen which is terrible. The Twins are dangerous and have scored 18 runs over their past two games against Seattle meaning that bullpen is tired too.
Jose Berrios is going for the Twins and he was a loss for us his last time out. He's too good to put up back-to-back rough starts and I think his offense will do more than enough for him to grab the win.
Bet Twins -140
Follow @SBTSportBetting