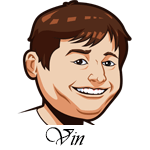 Follow @SBTSportBetting


[Get Exclusive Tips on our Patreon, Ad-Free
]
The Last Dance ended last night with the story of Michael Jordan being told. He's no doubt one of the greatest basketball players of all-time and probably the greatest winner of championships in all of sports. There has been a lot of things written and said about him so I won't rehash all those here.
For myself, I took the time to discover a different documentary series called "The History of the Seattle Mariners, a Dorktown special." It's a really smart, funny series and I actually learned a lot from it. I've read books about the history of the Mariners and still caught stuff that I've never heard before. Definitely worth checking out on YouTube as the third episode, focusing on the magical 1995 run, had me crying like a baby.
The talk about baseball returning remains a big topic of debate. The latest report seems to be that the return of the season would cause $4 billion in losses and would give major league players 89% of revenue. There would be a loss of $640K per game so there are definitely hurdles here. Supposedly, the New York Yankees would have $312 million in local losses when calculating their earnings before interest, taxes, depreciation and amortization. (It's funny how the books open up when we're talking about losses, but never the other way.)
The layers have accepted prorated share of their salaries during a shortened season, but now the owners are crying poor and saying that the current economics are not feasible. While players say they already made a deal and see no need for change. So while there is a plan in place, nothing is certain right now.
We do have baseball though, the KBO! Today, I have full tips for tonight/tomorrow's games. Let's go.
Notable Upcoming Bets:
KBO Betting Tips:
These games take place very late tonight/early tomorrow morning so no rush to get these plays in. ESPN is now carrying some of these games, but the won they are showing is not one that we have a bet on.
Lotte Giants at Kia Tigers: This one is all about the Tigers pitching and how not good it is. They have the second worst runs allowed in the KBO and are facing a very good pitching team in the Giants. The Giants are a top-four team in runs allowed. They've lost three of their past four, but two of those games were by one run. I am looking for the Giants to get back on track with a big win here.
LG Twins at Samsung Lions: Just behind the Tigers with 71 runs allowed on the season is the Samsung Lions. They back that up with a bottom-four offense and are one of the worst teams in the league. They've lost their last three games, all of them by six runs or more. They are just getting pounded as of late and I think the Twins could join in on their troubles here. The Twins have won six of their past seven games and I really like them to continue that trend here.
Follow @SBTSportBetting