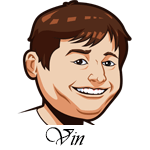 Follow @SBTSportBetting
3-0 last night! 63-35 on the season!
A very nice night with three wins that all came by nice margins. I am in a bit of a time crunch this morning so making this real quick.
Minnesota Twins vs. Seattle Mariners Betting Tips:
How can you not go with the Twins here? How come the sportsbooks aren't making us a pay a premium to bet the Twins here? The Twins have scored 36 runs over their previous three games against the Mariners and are going for the sweep here. They have Yusei Kikuchi on the opposite mound which plays right into their strenghts as they are one of the best teams against left handed pitching in the league. The bullpen of Seattle is in ribbons right now and if they get to it early, it could be another ugly one.
Kyle Gibson has grabbed us a couple wins in a row during his starts and is really showing some good stuff of late. Why don't we stick with that and the hottest offense in the league right now. I can't believe this moneyline is so low.
Bet Twins -108
San Francisco Giants vs. Arizona Diamonabacks Betting Tips:
This one was too good to pass up. The Giants offense is one of the very worst in the league against left handed pitcher with just a .617 OPS and a 66 wRC+. They strike out about 24% of the time against lefties and face a huge strikeout pitcher in Robbie Ray today. He is averaging 12 K/9 and has a 3.93 ERA/4.31 FIP on the season. I like him to bring those down against this offense.
I also like the Diamondbacks to hit Drew Pomeranz who is coming off the injured list for this game. Never a great time to start. Plus, he has a 5.93 ERA/5.74 FIP on the season and the Diamondbacks hit lefties well with a 129 wRC+ against lefties. Lay the runs, it's worth it.
Bet Diamondbacks -1.5 (+115)
Follow @SBTSportBetting