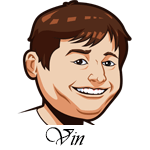 Follow @SBTSportBetting
A 1-2 record last night.
The Astros and Gerrit Cole absolutely cruised to victory with an 11-2 win. This was just an excellent match-up on both sides and some of the easiest money we'll make all season. More games like this, please.
I no longer understand pitchers as Matt Harvey had an awesome game against the Pirates, one of the best right handed hitting teams in baseball. If pitching is so valuable, why did the Mets let him go for virtually nothing? If he could do this, why did they let him go? I can only assume it is some kind of dark magic that we aren't privy to. Jameson Taillon, who has been solid in most of his starts, got absolutely rocked by the Reds in this one and the Pirates lost. Boo. I'm over Taillon and Harvey.
The injuries of the Mariners really derailed our pick last night. Robinson Cano is suspended, Dee Gordon was on the disabled list, Nelson Cruz was out and then Mitch Haniger was hit by a pitch and left the game. Pretty hard to hit an over with what's left of that lineup. Then Mike Leake had to go put up one of his best starts of the year and this over never had a chance.
[text-blocks id="137″ slug="email"]
Milwaukee Brewers vs. Arizona Diamondbacks Betting Tips:
The Brewers offense is really starting to heat up and they are up to a .739 OPS against right handed pitchers on the year. Zack Godley is not in the type of form that gives me a lot of confidence in him. He's allowed four earned runs in three of his past five starts with walks and homeruns being a problem. The Brewers offense is getting hot and Miller Park is always homer friendly.
Brent Suter isn't my favorite pitcher to target, but he is always solid. The Diamondbacks offense has been tough on lefties this year, but with AJ Pollock out and Paul Goldschmidt in a prolonged slump, as well as the whole team being in a major slump with just a .510 OPS over the past two weeks, I am not that worried about it. This teams are trending in opposite direction and I like the Brewers to finish the sweep here.
Bet Brewers -111 at: [text-blocks id="87″ slug="bet-mlb"]
Los Angeles Angels vs. Toronto Blue Jays Betting Tips:
Toronto has just a .702 OPS against lefties on the year and faces a tough one today in Tyler Skaggs who has started the season with a 2.88 ERA/3.31 FIP. He's forcing a lot of groundballs which is always great with that infield defense led by Andrelton Simmons behind you and getting a decent amount of strikeouts. I like him to have a good outing today and he's a good sleeper pick on FanDuel.
He goes against Aaron Sanchez who is coming off a four-run start against the Athletics. The Angels are a similarly dangerous offense with two of the scarier hitters in the game in Mike Trout and Shohei Ohtani. His 4.47 ERA/4.90 FIP seems about right on and the Angels have a great chance to win here today.
Bet Angels -116 at: [text-blocks id="87″ slug="bet-mlb"]
Pittsburgh Pirates vs. Cincinnati Reds Betting Tips:
The Pirates offense let us down yesterday, but I like them a lot again today. Homer Bailey is just done. He has a 6.11 ERA/6.04 FIP with a lot of homeruns, too many walks and barely any strikeouts. He's not a great pitcher for his home ballpark either and this should be a feasting by the Pirates offense.
Even after last night, the Reds still have a .684 OPS against righties. Last night is not the norm for them. I don't love Chad Kuhl, but he has a decent strikeout rate and he should do enough to hold on for his team to win.
Bet Pirates -117 at: [text-blocks id="87″ slug="bet-mlb"]
Follow @SBTSportBetting