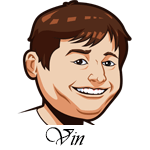 Follow @SBTSportBetting


[Get Exclusive Tips on our Patreon, Ad-Free
]
Chaos has taken hold in the NBA Playoffs as the once sure thing match-up of the Golden State Warriors and Cleveland Cavaliers now appears to be in serious jeopardy. Last night we saw the Toronto Raptors put in another great performance to tie the series against the Cavs at 2-2. It would seem that the Cavaliers have everything in place to defeat this team, but they just keep on fighting. We've said it all playoffs, but when Lowry and DeRozan have great games this is a great team. When they don't, I'm not sure they even belong in the playoffs. Add in the big Bismack Biyombo play and the Cavs now find themselves in trouble. They still have Lebron James, who seems to have a broken jump shot, and they still have Kyrie Irving and Kevin Love, who have had some of their worst shooting games of the playoffs in these last two games, but it might not be enough if the shots don't go in. This series just got interesting.
Tonight we have the Warriors and Thunder game three and it is pretty close to a must win for Golden State. They've been straight up embarrassed in their two losses in this series with Draymond Green going a shocking -41 in the last game out. That can't happen again if they want to repeat as champions. In a way, that loss could end up being a very good thing for the Warriors who now realize that they aren't bullet proof and that they must play at their absolute best if they want to get out of the Western Conference. This isn't last year when they played the Rockets in the Western Conference Finals, this is two of the best players in the league and a team that is coming together at exactly the right time. This is what the NBA is all about and hopefully we get a quality game that matches the intensity of the series.
NBA Betting Tips:
As I said in the opener, this is just about a must-win for the Warriors. The losses for both teams have been pretty ugly, but there is a common thread throughout them both: the teams made their open shots. We've seen this time and time again in the playoffs, the narrative is one thing but the truth is another. Teams sometimes just miss their open shots. These two teams have played tight and I think the balance will swing back towards the Warriors tonight. Steph Curry seems to become more of himself with every passing game and I can't imagine Draymond putting up another stinker like last time out. Warriors -2
Notable Upcoming Bets:
MLB Betting Tips:
The Chicago Cubs stormed through the first two months of the season and had people talking about the World Series and a run at the MLB regular season all time wins record. Now? Their 2-6 over their past eight games and have lost three straight. All that has led to them being a slight underdog tonight against the Cardinals. This is despite having Michael Wacha on the mound for the Cardinals who has a 7.71 ERA over his last three starts and a career 5.26 ERA against the Cubs. This season I am always going to give the Cubs the benefit of the doubt and if I can get them at a number like this, I'm taking them. Cubs +105
One of the hottest teams in baseball right now is the Detroit Tigers. They've won six of the last seven games and done it with big bats, scoring at least five runs in each of their past seven games. They have done especially well against righty starters (like Jeremy Hellickson) with a .795 OPS and 49 homeruns. Hellickson is prone to the long ball and I think the Tigers will take him deep tonight. Let's ride Detroit's hot streak and take Tigers over 4.5 runs (-125).
San Francisco and San Diego have played back to back one-run games with the Giants winning both by a score of 1-0. With Jeff Samardzija on the mound with his 2.66 ERA, I don't love the Padres to suddenly rediscover their bats. Expect another quiet night of the bats as Padres/Giants Under 7 runs hits.
Follow @SBTSportBetting