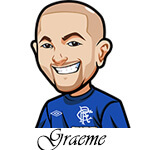 Follow @SBTSportBetting


[Get Exclusive Tips on our Patreon, Ad-Free
]
Welcome to the latest addition of our Euro 2016 Top Team Goalscorer Betting Tips.
As I've mentioned previously I am working with my friend Fraser, an expert on this and together we're posting both our opinions.
In todays article we're going to cover Hungary, Republic of Ireland, Russia, Portugal and Slovakia.
There'll be two more articles after this.
You can see the previous ones here:
Top Team Goalscorer Betting Tips: Hungary
Graeme: The first appealing thing you see about Hungary is how closely matched their players are odds wise. I mean the two favourites are at 13/2 but then there's the 7th favourite at 10/1. A large part of that is Hungary scored just 11 goals in 10 group games and only Daniel Bode scored twice – both against the Faroe Islands. I'm going to take the 13/2 Tamas Priskin who scored against the better opposition – Northern ireland in the group stages, and Norway in the crucial playoff game. Although the fact that both gaols were at home is a bit concerning and I recommend just a small bet here.
Fraser: You can tell the bookies don't expect many goals this year from Hungary, with No Goalscorer the favourite at 6/1. To be honest I have to agree with them. Only 14 goals in 12 matches in qualifying and now going up against Portugal, Austria (who were excellent defensively in qualifying) and Iceland (another surprisingly good defence). 6/1 for no goals is not to be sniffed at on this occasion.
Top Team Goalscorer Betting Tips: Republic of Ireland
Graeme: Republic of Ireland qualifed from a tough group with 19 goals in 10 games and some impressive defensive performances. Of course 7 of their 19 goals were scored in one match against Gibraltar. Despite being their top goalscorer in qualifying, Robbie Keane is 3rd favourite behind Shane Long and Jonathan Walters. I have to take Robbie Keane. He's had a lot of solid performances with LA Galaxy and although it's likely he doesn't start – I'd much rather back such a prolific goalscorer at those high odds in what is likely his last international tournament.
Fraser: First thing I noticed looking at the odds for Ireland was 8/1 for Robbie Keane. He had 5 goals in qualifying, the same as joint 4/1 favourite Jonathan Walters, with Shane Long who scored 3 time is the other 4/1 shot. But looking deeper into that, Keane's 5 goals all came against Gibraltar so that will rule him out for me. I'm going to plump for Walters at 4/1, not the best price for him, but he does pop up with important goals and Ireland will be hoping for that from him in a very tough group.
Top Team Goalscorer Betting Tips: Russia
Graeme: The standout star in Russia during qualifying was Artyom Dzubya who got 8 goals. Next on the list was Alexsandr Kokorin at 3 goals. In situations like this I always look first at the other contenders to try and convince myself. However with his club and country form I have to go with the favourite Artyom Dzuba.
Fraser: Artyom Dzyuba was on fire in qualification with 8 goals in the 10 games, so 10/3 is very big. Lets have a quick look at the big target man and double check that it is good value. He seems to have kicked on well in his first season at Zenit, 43 games and 23 goals is an excellent return, including 6 goals in 8 games in Europe. Russia are also in a group with England, Wales and Slovakia so it looks like a group with goals. 10/3 is looking more of a bargain by the minute, so I'm getting on Dzyuba
Top Team Goalscorer Betting Tips: Portugal
Graeme: Seeing the odds of Ronaldo at 4/9 are absolutely hilarious – it's like when you see Rory McIlroy playing in a tournament at 3/1 odds and it makes every other bet amongst the top 20 golfers +EV. Portugal scored just 11 goals in 8 games in qualifying with 5 of those coming from Ronaldo – 4 of those against Armenia. Honestly you can bet any of the next few – Nani, Quaresma etc and you're in the right probably. However I'm going to go with the incredibly risky No Portugal Goalscorer at 66/1 odds. In qualifying Portugal were very disappointing and it honestly wouldn't surprise me.
Fraser: Portugal didn't score as many as you would expect from them in qualifiying, but Ronaldo was still the standout with 5 goals. He is only 4/9 to be top scorer so it makes it difficult to bet on him. I'm going to be controversial and pick an outsider at 20/1 and go for Joao Moutinho who scored two in qualifying against Serbia and Denmark
Top Team Goalscorer Betting Tips: Slovakia
Graeme: Slovakia came 2nd in a tough Group C ousting Ukraine for that automatic qualification spot. They scored 17 goals in the process, with Marek Hamsik top with 5 goals then Adam Nemec next with 3. Hamsik is the 5/1 favourite with Nemec at 13/2. I jsut find it tough to back anyone else but Marek Hamsik. He's a legend at Slovakia and even though he plays more in an attacking midfielder role, is getting the most out of the position lately.
Fraser: The Slovakian talisman Marek Hamisk was top scorer in qualifying with 5 goals, ahead of Adam Nemec with 3. I can't go with Nemec due to his lack of goals at club level in the last few years, and Michal Duris hasn't impressed me much either. Napoli's Hamsik is a big threat from midfield, and Slovakia will be hoping for him to turn up big in the group stages, so I can see him nabbing the couple of goals to make him top goalscorer at 5/1.
Follow @SBTSportBetting