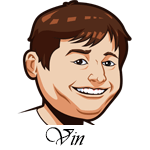 Follow @SBTSportBetting
For the first time this playoffs the Cleveland Cavaliers put together a tough defensive effort and finally looked like the team that everyone had pegged for the Finals. If they are going to play that kind of defense combined with the offense they are capable of then it doesn't really matter how loud the crowd is in game six, the Cavs are winning this series.
Speaking of loud crowds, tonight should have the Oracle Arena shaking as the Warriors attempt to comeback from 3-1. Last time out they did not look like they had made any adjustments from the previous games, like allowing Roberson to go crazy on them, and they should have plenty of tricks up their sleeve tonight as they enter desperation mode tonight. This is the highest stakes possible for game five and the Warriors really don't want to see their dream 73 win season go down like this.
MLB Betting Tips:
The Orioles come into tonight's game against the Astros having lost three straight. That is good for the Astros who come in winning two straight, but lost four games in a row before that. I think that this recent six game stretch is positive for the Astros though as they allowed three runs or less in five of those six games. The big issue with them this season has been their pitching and that is a sign that things are starting to even up. Lance McCullers is on the mound for them tonight and he led them in strikeouts last season. The Astros were picked before the season to be one of the best teams in baseball and I think that team is still in there despite the record. The past week has given me encouragement and I'm going with the Astros -114 tonight.
The Red Sox offense this season has been one of the greatest we've ever seen at this point in the season. They get the Rockies at home tonight and if you add up the pitcher's ERAs you get a number over 12. The total on this one is set at just 9.5 runs. Seems like an easy play for me, Red Sox/Rockies Over 9.5.
Notable Upcoming Bets:
NBA Betting Tips:
The big thing that I talked about on Tuesday regarding this series is the making of open shots. The Warriors had a lot of really great looks down the stretch on Tuesday, but the ball just didn't go in. Meanwhile, Russell Westbrook shot 50% on three pointers when he is a career 30% shooter, Roberson has made more threes in the past two series than he has in his entire life and Waiters has gone crazy. A lot of that could be playing in a tough environment in OKC, but a lot of that is just luck. The home court advantage will switch for this one and I have to believe that the shooting luck will switch as well. The Warriors need this game very bad as even if they lose this series, it will hurt so much if it happens at home. I think they get this one done and then we have the biggest game six possible this weekend. Warriors -7.5.
Follow @SBTSportBetting