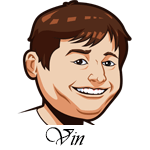 Follow @SBTSportBetting
A 1-2 record. Just two runs away from a winning night.
I took the first five over on the Red Sox/Braves game at six runs, but it ended at just five. There were runners left on base. This could've easily hit. It didn't.
The Yankees won their game 2-1, but we laid the -1.5. The heart of the order went uncharacteristically quiet in this one. They'll get some help today as Greg Bird will be activated off the disabled list. Could that offense somehow get better? We'll see.
My favorite play of the day was the Cubs and they won easily 6-2. It took the offense a minute, but they eventually got it going and exploded for four runs in the seventh for the easy win.
[text-blocks id="137″ slug="email"]
Toronto Blue Jays vs. Philadelphia Phillies Betting Tips:
Jaime Garcia has had a rough time early this season with a 6.28 ERA/5.70 FIP and he faces the Phillies who are hitting for a .743 OPS against lefties on the season. A lot of hitters in this lineup are starting to heat up and I like them a lot in this match-up.
Even better for the Phillies is Aaron Nola on the mound. Nola has been a true ace thus far this year with an awesome 2.37 ERA/2.85 FIP with a ton of groundballs. The Jays offense has a decent OPS, but it is mostly from the slugging as the OBP is at .313. I think Nola neutralize that slugging and the Phillies win the day. Lay the runs.
Bet Phillies -1.5 (-110) at: [text-blocks id="87″ slug="bet-mlb"]
Pittsburgh Pirates vs. St. Louis Cardinals Betting Tips:
I can't say I understand what is going on with Jack Flaherty, but the results are definitely there. He has a 2.31 ERA/2.81 FIP on the year and has an awesome strikeout rate and has done a good job of keeping the ball in the ballpark. He faces a tough Pirates offense today, but I like him to acquaint himself well early.
He goes against Trevor Williams who has a less impressive 3.05 ERA/4.09 FIP, but the Cards offense has just a .705 OPS against righties and they've been rather cold of late hitting for a .686 OPS over the past two weeks. This game won't be as hot as some of the other games today and I think it's the best under play of the day.
Bet Cardinals/Pirates Under 8.5 Runs at: [text-blocks id="87″ slug="bet-mlb"]
Washington Nationals vs. Miami Marlins Betting Tips:
It is time once again to bet against Wei-Yin Chen. His nearly 5 walks per game, 2.45 HR/9, low groundball rate and 6.55 ERA/7.16 FIP have made him one of our most profitable pitchers this year and today is no exception. The Nationals have just a .696 OPS against lefties, but I expect them to improve on that number today and this one could get ugly.
Tanner Roark starts for the Nats and I'll just say that the Marlins OPS against righties is .640. Sometimes that's all you need to know and picking these games is easy. I don't believe in the Marlins, I don't believe in the Chen and I love the Nats today. Lay the runs.
Bet Nationals -1.5 (+105) at: [text-blocks id="87″ slug="bet-mlb"]
Colorado Rockies vs. Cincinnati Reds Betting Tips:
Coors Field is the top hitting park in baseball and tonight the wind will be blowing out to right at 10mph. I don't trust much of the Reds pitching staff and Tyler Anderson isn't scaring me. Blindly going over on this one.
Bet Reds/Rockies over 11.5 at: [text-blocks id="87″ slug="bet-mlb"]
[text-blocks id="110″ slug="middle-ad"]
Follow @SBTSportBetting