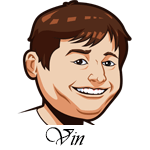 Follow @SBTSportBetting
A 1-2 record last night.
A tough night last night as two of our three picks lost by just one run.
We had the Royals over the White Sox and the Sox really broke out of their slump in a big way in this one with seven runs in the first two innings. The Royals scrapped away to end up tying this one, but the Sox added one in the eight to grab the win.
The Astros over the Cubs was our other loss as Kyle Hendricks just pitched a gem in a 2-1 win. He had 8IP and just four hits in the game, only just the one run. This definitely felt like a game where the Astros recent injuries caught up with them a bit.
Finally, we had the over on the Dodgers and Mets and this one was beyond easy as both teams hit the over by themselves. We had this one locked up by the fifth inning to salvage the night.
Kansas City Royals vs. Texas Rangers Betting Tips:
It's our old friend Mike Minor going for the Rangers and for whatever reason he has been very good to us this season. I am expecting him to continue to be just that tonight against the Royals. KC has just a .638 OPS/68 wRC+ against left handed pitchers on the season and I think Minor will continue his success for us tonight.
Especially with this powerful Rangers offense against Jakob Junis. He has a 5.34 ERA/6.03 FIP on the year with a 2.27 HR/9 rate. This is not the team you want to give up homeruns to. Lay the runs.
Bet Rangers -1.5 (+120)
Seattle Mariners vs. Los Angeles Angels Betting Tips:
I want to say something like "I am going to give the Mariners one last chance here", but let's be honest. This season isn't even halfway over with. There is way too much baseball left to write off a team at this point. That said, I am going with them today and if they blow it like they did early this week I am going to conveniently forget to look at the games in which the Bet MLB System favors them.
I do like their match-up though. Yusei Kikuchi is due for some regression as he has a 4.19 ERA/3.45 FIP on the year. Tonight is a good opportunity for that as the Angels hit for a .674 OPS/84 wRC+ against lefties.
Felix Pena goes for the Angels and he's been decent with a 4.02 ERA/3.90 FIP. The Mariners offense is very dangerous against right handed pitchers though as they've hit for a .780 OPS/111 wRC+ on the season. My usual worries about the Mariners bullpen aside, I think Seattle looks like a good pick here.
Bet Mariners -114
Follow @SBTSportBetting