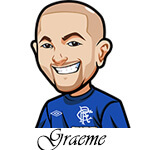 Follow @SBTSportBetting
First of all – my apologies for no betting tips the last few days.
I was able to cover the betting tips while I was in Vegas amazingly. I didn't take my laptop but just a bluetooth keyboard instead as I was not bringing any checked luggage and it worked out great. Was nice to be able to travel light with that.
However after arriving back I was absolutely swamped with work and unfortunately just had to skip a couple of days with my soccer tips.
Hopefully back to my regular schedule now even though I'm still bloody shattered from Vegas ha. Love the place but every trip is exhausting, and I feel like I have about 10 hours of sleep to catch up on still.
Anyhoo – this Saturday is the UEFA Champions League final. It kicks off at 3pm EST and features Tottenham Hotspur vs Liverpool.
Over the course of 90 minutes, Liverpool are the heavy favourites at 1.95 odds. Tottenham are at 4.33 odds while the draw is 3.60.
Both teams got here on the back of some incredible comebacks. Liverpool in particular of course – from 3-0 down from the first leg to winning 4-0. Absolutely unbelievable.
However the Spurs result is right up there too. They were 3-0 down with one half of football to go. They came back with three goals – a hat trick from Lucas Moura – to win right at the death.
It was unbelievable.
I rewatched the games this week in the background. My one thought about Spurs vs Ajax is that things went Spurs way. Ajax had quite a few opportunities in both legs that they seriously squandered. Like there's a few players who are probably still having sleepless nights over some of them. Not that Spurs don't deserve it but they obviously got a bit lucky.
Liverpool vs Barcelona is an interesting one where Barcelona just never seemed to step it up in the second leg when needed.. They came in confident and complacent and played the Barca way and it just didn't work out. Seen Barcelona make those mistakes before. However it shows the fighting spirit Liverpool have.
In the league season, Liverprool were victorious both times. They won 2-1 earlier in the season with goals from Gerginio Wijnaldum and Roberto Formino. Erik Lamela scored a 93rd minute consolation goal.
Then at home, Liverpool won 2-1 again. Roberto Formino scored in the 16th minute, Lucas Moura equalized in the 70th and a Toby Alderweireld own goal in the 90th minute won it for the Scousers.
When you have a game on the grand stage such as this, you look at the odds and you try and convince yourself to take the underdog.
At that price, betting on Spurs to win seems like value doesn't it? And in a game of football, anything can happen.
But I just don't see it.
Liverpool are the better team all over the pitch and after the way the EPL ended, they've got to be properly motivated for this one.
Harry Kane may be back but that could end up being an issue. I saw a lot of people saying don't play him but meh it's the Champions League final – gotta play him.
(Odds on this page are correct as of 2019/05/30 3:37:32 PM EST but are subject to change)
Follow @SBTSportBetting