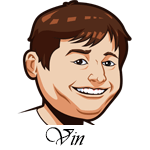 Follow @SBTSportBetting


[Get Exclusive Tips on our Patreon, Ad-Free
]
3-3 last night. 74-49 on Patreon this month.
L Orioles Moneyline
W Rangers -0.5 First 5 Innings
L Cardinals -0.5 First 5 Innings
W Diamondbacks -0.5 First 5 Innings
L Braves -1.5
W Dodgers -0.5 First 5 Innings
Six tips today.
All MLB tips are based on the starting pitchers listed. Tips should be considered void if any pitching changes are made unless otherwise noted. Occasionally the "follower" will be listed as we are betting on who will pitch the bulk of the innings.
We are now posting some of our betting tips exclusively on
Patreon
, as well as posting exclusive betting tips there. Here is what you get by supporting us on Patreon:
Exclusive betting tips. Not just the tips omitted from these posts, but many exclusive tips as well.
Ad-free experience.
Priority e-mails; receive the e-mails as soon as the tips are posted rather than hours later.
Bet Horse Racing - +£21,565.98 profit on £25/pt staking. Click for more details.
(Advertisement but we have tested it out and have been quite impressed with it)
Cleveland Guardians at Baltimore Orioles Betting Tips:
CLE – Cal Quantrill
BAL – Kyle Gibson
A big letdown with Baltimore yesterday, but Logan Allen is a really good pitcher who pitched really well. Quantrill probably isn't going to be that. Baltimore has a 106 wRC+ against righties this season while Quantrill has a 4.75 ERA/5.01 FIP on the year. Low strikeouts so he's relying on a lot of contact and Baltimore can really hit.
Gibson is average with a 3.82 ERA/4.18 FIP this season. Despite their showing yesterday, the Guardians are still a very below-average offense with just a 76 wRC+ against righties. The Orioles bullpen is very good.
I think we see a return to normality and an Orioles win here.
Orioles Moneyline (-134)
Bet Horse Racing - +£21,565.98 profit on £25/pt staking. Click for more details.
(Advertisement but we have tested it out and have been quite impressed with it)
Tampa Bay Rays at Chicago Cubs Betting Tips:
TBR – Shane McClanahan
CHC – Kyle Hendricks
I've never been a fan of Hendricks. When he's been good it's been because of the groundball and favorable BABIPs. He's not been that guy for a few years though and now he's just a low-strikeout, average pitcher. The Rays offense is extremely tough with a 136 wRC+ against righties.
McClanahan is anything but average with a 1.97 ERA/3.33 FIP this season. A huge strikeout rate and a good groundball rate. The Cubs have a 105 wRC+ against lefties, but they have been cold of late with a 91 wRC+ over the last two weeks and a 92 over the past month.
Rays -0.5 First 5 Innings (-133)


Atlanta Braves at Oakland Athletics Betting Tips:
ATL – Bryce Elder
OAK – JP Sears
The final loss revenge bet of the day.
Last night was the risk you take with someone making their first start of the season. Soroka wasn't sharp and it cost us. I don't see that being an issue with Elder here who has a 2.01 ERA/3.46 FIP thus far this season. The Athletics offense is still bad and they have an 89 wRC+ this season.
The Braves offense is awesome and this is a much better match-up than yesterday. Sears has a 4.70 ERA/5.15 FIP with a huge homerun rate. That's not a good look against the Braves.
Braves -1.5 (-141)


Colorado Rockies at Arizona Diamondbacks Betting Tips:
COL – Kyle Freeland
ARI – Zac Gallen
Yesterday was a bit of an adventure with the Rockies jumping out to a 4-0 lead and then the Diamondbacks coming back. I don't think that will be the case today with Gallen on the mound. He's been amazing this season with a 2.97 ERA/2.10 FIP. The Rockies are bad against righties and bad on the road. This should be domination.
Freeland has had a bit of a hot streak of late with a 3.24 ERA/2.85 FIP over his last five starts. The weird thing about that is he's actually been doing it at home, the best pitching park around. He's on the road here where he has a 4.71 ERA/5.43 FIP. Diamondbacks are decent against lefties and great at home.
Gallen will do the heavy lifting here, but this should be an easy D-backs win.
Diamondbacks -1.5 (-124)
Bet Horse Racing - +£21,565.98 profit on £25/pt staking. Click for more details.
(Advertisement but we have tested it out and have been quite impressed with it)
New York Yankees at Seattle Mariners Betting Tips:
NYY – Nestor Cortes
SEA – Logan Gilbert
Last night, the Yankees gave Bryce Miller his first dud start of the year. Tonight, I don't think it will be so easy. Logan Gilbert has been amazing this year with a 3.60 ERA/2.79 FIP. Over his past five starts, he has a 3.06 ERA/2.39 FIP. The Yankees have a 103 wRC+ against righties this season so he should be able to continue his dominance.
The Mariners offense has been creeping up towards average of late and I think they continue to roll here. Cortes has a 5.30 ERA/4.78 FIP with a high homerun rate.
Both of these bullpens are great, but the Mariners is just that much better.
Mariners Moneyline (-128)


Washington Nationals at Los Angeles Dodgers Betting Tips:
WSN – Jake Irvin
LAD – Tony Gonsolin
The Dodgers are the biggest line of the day and the top pick of the day. Just because it's obvious doesn't mean it's not a good bet.
Dodgers offense has been killing it in every way and Irvin has a 5.32 ERA/5.92 FIP this year. Really high walks against one of the most patient in the league is not a good recipe. The bullpen behind him will do him no favors.
Gonsolin isn't that exciting, but he's been solid with a 1.82 ERA/4.70 FIP. He's not as good as that ERA and as bad as that FIP, but he should end up somewhere in the middle. A nice match-up for him here with the Nationals having a 95 wRC+ against righties without a lot of walks or homeruns.
Dodgers -1.5 (-152)
Bet Horse Racing - +£21,565.98 profit on £25/pt staking. Click for more details.
(Advertisement but we have tested it out and have been quite impressed with it)
Follow @SBTSportBetting