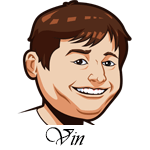 Follow @SBTSportBetting


[Get Exclusive Tips on our Patreon, Ad-Free
]
A crazy finish last night to the Spurs-Thunder game and the NBA Playoffs feel like they're finally here. Every possession mattered in that one and despite the loss, I think the Spurs really revealed themselves as the better team in this series. They probably should've won the game and the Thunder absolutely blew this game down the stretch. They had a chance to really put the nail in the coffin back in the first quarter as the Spurs started just 1/13 from the field, but thanks to six early turnovers they let the Spurs back in and nearly blew it. I think coach Billy Donovan is way out of his league in this one. Dion Waiters in-bounding the ball on the most important play of the game, guys with no playoff experience playing big minutes down the stretch, bad play calling, undisciplined transition defense; the Thunder have the greatest talent and they are blowing it. Spurs in six.
The NHL playoffs are also in full swing tonight with three big games. The Sharks are up 2-0 and head to Nashville to try and close out the series. They've looked really tough thus far in the playoffs and it'll be interesting to see how Nashville reacts to their first home game. Can they make it a series? The Blues and Stars also head to St. Louis tonight for game three. This looks to be a tight series and I'm really interested to see how it plays out.
Plus, there is a full slate of baseball. We have a lot of tips today so let's just get right into it.
NHL Betting Tips:
There has been a lot of talk about how the Penguins-Capitals series may be the Stanley Cup Finals in the second round, but people who have been talking like that haven't been watching the Sharks who look ready to put up a strong fight against either team. When they've been firing on all cylinders in these playoffs, they've been the best team out there. When they haven't been, they've been able to tough out wins and get the lucky breaks. That is the making of a championship team and I think they make a move to close this series down tonight in Nashville. They ripped the Preds hearts out in game two, now it's time to step on them. Sharks +119
The Dallas Stars are simply a different team without Tyler Seguin and he'll be out for this one tonight. Combine that with a home ice advantage and I'm all over the Blues -135 tonight.
Notable Upcoming Bets:
MLB Betting Tips:
For the past few years, the Indians have always struggled in April for whatever reason. Well, it's May now and I'm ready to hop back on board the bandwagon. Josh Tomlin goes for his fourth win tonight at the Tigers. Tomlin is 3-0 with 3.18 ERA. He's a pitch to contact guy who has an amazing defense behind him that makes that work. He's going against Justin Verlander who may have finally hit the wall of his career, he has a 5.46 ERA and 1.31 WHIP thus far this season and hasn't looked like the guy we once knew. I like the Indians -127 to start making their move in the AL Central, tonight.
Alex Meyer makes his major league debut for the Twins tonight and we've learned that these major league debuts don't always end pretty for starting pitching prospects. He'll face a really tough Astros lineup and should have a tough welcome to the majors. Colin McHugh goes for Houston who has been awful thus far this season with a 6.65 ERA. Rookie pitchers versus bad pitcher means runs. Over 8.5 runs is the play here.
NBA Betting Tips:
The Raptors came into the playoffs with one goal: to win a series. They did that and now have to face a tough Miami Heat team. There wasn't much about the Pacers series to leave you impressed with the Raptors, including playing the worst fourth quarter of all-time in the deciding game. Meanwhile, the Heat were able to come back from 3-2 against a tough Hornets team and looked better as the series went along. I don't see this one ending well for Toronto. They accomplished their goal, now it's time for the Heat to accomplish theirs. Bet Heat +4.5.
Follow @SBTSportBetting